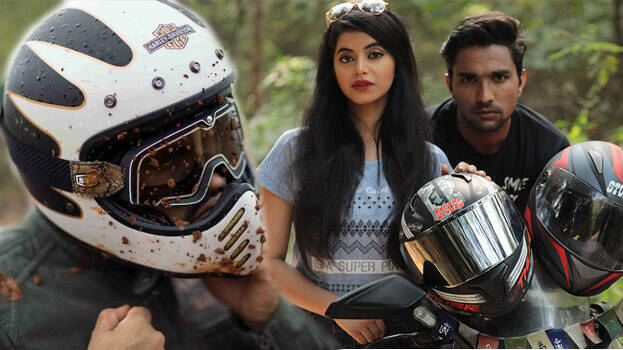 Many of us wear helmets to avoid fines during police checks. Therefore, such people wear helmets only where there is a possibility of police checking and where security cameras are monitoring the roads. We can see people riding two-wheelers on the road wearing only a mask and not a life-saving helmet.
But be aware that choosing the wrong helmet and not wearing it properly at all times can be life-threatening.
Just because you wear a helmet every time you go for a ride does not mean that your safety is secured. There have been cases where helmets came off during accidents because they were not worn properly and there have been deaths due to poor quality of the helmet's layers piercing the rider's head. So a helmet should be selected with a priority on the following points.
Fit of the helmet
No matter how expensive a helmet is, it will only save you in an accident if it fits snugly on your head. So after you put on the helmet and tighten the chin strap, move your head back and forth. If the helmet becomes dislodged then the same can happen during an accident as well. So be careful to choose the right helmet for your head shape.
Be sure to always use the chin strap or the helmet may come off your head in a fall. Also, choose a helmet with inner padding touching your cheeks.
Heavy does not mean safety
Avoid the delusion that heavier helmets will provide more safety. Heavy helmets can often cause discomfort and put too much stress on the neck muscles. So it is advisable to choose helmets between 1200g to 1350g.
Certification
Helmets with ISI certification by the Bureau of Indian Standards will make your riding safer. Since fake ISI-branded helmets are available at low prices even on roadsides, be careful to buy them only after verifying their authenticity. Helmets with ISI marking and DOT certification can be acquired by spending extra money.
Visor
Helmets with tinted and clear visors are available today. Tinted visors are not recommended for night riding but come in handy during the day when there is intense sunlight. But those who opt for regular helmets should opt for ones with transparent visors. Helmets with both types of visors are available in the market.