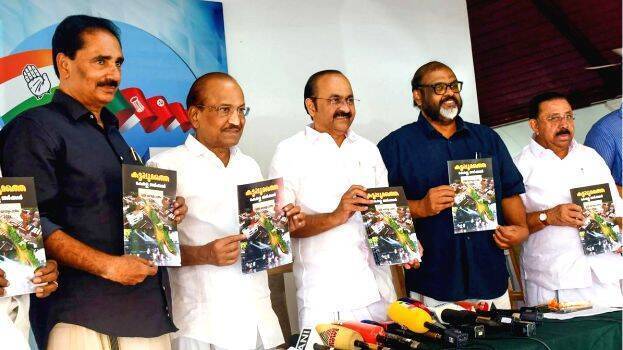 THIRUVANANTHAPURAM: The UDF on Saturday released a White Paper on the financial crisis faced by the state and lashed out against the state government. The White Paper pointed out that the state's total debt has risen to four lakh crores, making each citizen a debtor of Rs 1.14 lakhs. It said that extravagance, corruption, and inflation have destroyed the state.
Opposition leader VD Satheesan alleged that there is mismanagement in the tax collection of the state. Reestablishment of the tax collecting system is just an announcement, government officials and pensioners are suffering a lot, said VD Satheesan. He added that the Kerala government is yet to pay 8000 crores for the Social Security Mission. He also said that some stands of the central government have also added to this crisis.
The Opposition Leader said the income from tax collection has come down. "Tax collection in the State has come down drastically… KIIFB has become a total failure. They announced projects worth Rs 70,000 crore within five years but in the last six years, projects worth only Rs 6,000 crore were implemented," he said.
The opposition is planning to attack the government in the assembly by highlighting the White Paper. Meanwhile, the finance minister, who accused the opposition of exaggerating the figures, added that the debt limit has not been breached.
The White Paper was prepared by the Financial Planning Sub-Committee of the UDF, chaired by CP John.
Ninth position in debt trap
3.29 lakh crore: Debt of the state
1.14 lakh rupees: Debt liability on each citizen

CM's extravagance
Accompanied by 28 security vehicles
7 vehicles were purchased for the Chief Minister
42.50 lakhs for cattle shed at Cliff House
32 lakhs for the renovation of the swimming pool
43.14 lakhs for London trip along with family
46.93 lakhs for the trip to Norway
Tax collection
Target in 2021-22: Rs 71,833.28 crores
Collected amount: Rs 58,340.49 crores
Amount not collected: Rs 13,492.79 crores