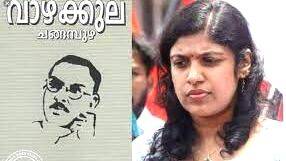 TRIVANDRUM: The poem 'Vazhakula' by legendary Changampuzha Krishna Pillai introduced multitudes in Kerala to the world of revolution. After mistaking the poet of this eternal literary work, now the chairperson of Kerala state youth commission Chinta Jerome is doubted for plagiarism in her Ph.D. thesis. For the past week, the fiery orator Chinta was at the summit of social media discussions for all the wrong reasons. Now, even academicians are concerned about the happenings in the issue.
Chinta Jerome is accused of plagiarizing from the Bodhi Commons website published article of 2010. Interestingly, in the article, the poet of 'vazhakula' was erroneously credited to Vyloppilli. This is a carbon copy of Chinta's thesis where the paragraph also remains the same. The save university campaign committee has taken the issue seriously and will give their complaint to the Vice-chancellor in the coming days.
Albeit mainstream news channels running the issue for days, it is appalling that the Kerala university is yet to make a statement or press release on the issue. Earlier, the salary of Chinta Jerome was also a subject of controversy.