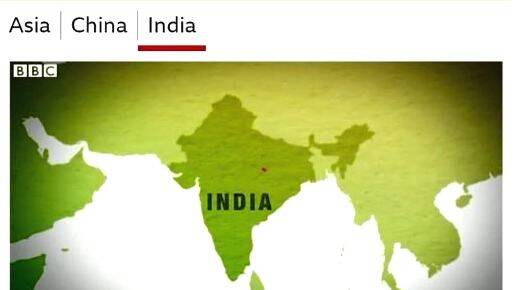 The conundrum over the BBC documentary is still aflame and gets in yet another controversy anchored on the world's leading public service broadcaster. Twitter users were quick to notice the faux pas from BBC as the broadcasting agency placed a truncated map of India without Kashmir on their website.
It was just days before that Anil Antony, son of veteran leader AK Antony apprehended the BBC documentary on PM Modi, much to the chagrin of fellow congress workers. Anil faced a flurry of threats following which he resigned from congress. Albeit resigning, Anil never pulled back any punches and slammed BBC, by sharing on his Twitter page pictures from 2020 showing the news broadcasters' website using an Indian map devoid of Kashmir.
But many on the other side of the political spectrum doubt this to be old news from BBC. With the commentary on Modi creating unrest in India, the ruling party and its cohorts are incensed over the news portal and its deeds.
If proven, BBC has repeated the same gaffe again and it is not that naïve from the broadcasting agency this time. Netizens are irate over the issue with BBC not responding to it.