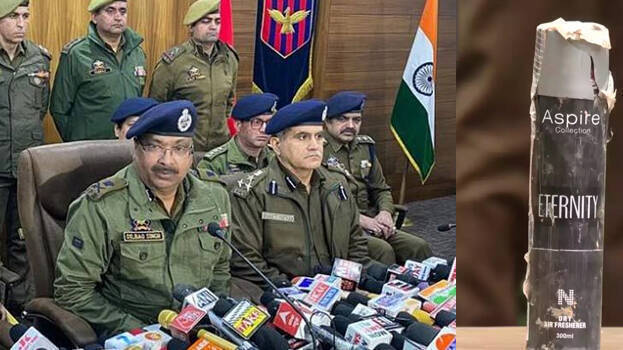 SRINAGAR: Jammu and Kashmir Police have arrested a Lashkar-e-Taiba terrorist, working as a government school teacher, in the twin blast case in Jammu's Narwal region. Arif Ahmed, a resident of Reasi district, was arrested after a perfume bomb was seized from him. "This is the first time we have recovered a perfume IED. We have not recovered any perfume IED before. The IED will blast if anyone tries to press or open it. Our special team will handle that IED," DGP Dilbag Singh said. Arif, who was working on the behest of Pakistani handlers, was arrested in connection with the investigation into the twin blasts at Narwal.
The perfume bomb is set up in such a way that when the finger is pressed on the part where the perfume comes out, it explodes. Efforts are on to defuse the seized perfume bomb. The police believe that Arif got the bomb from Pakistan through drones from Pakistan that have been reaching Indian territory for a few days now.
The DGP said that Arif has confessed to being involved in the blast in Shastri Nagar in Jammu last year and the blast in the bus carrying Vaishno Devi pilgrims. Nine people were injured in the blast in Narwal last month.