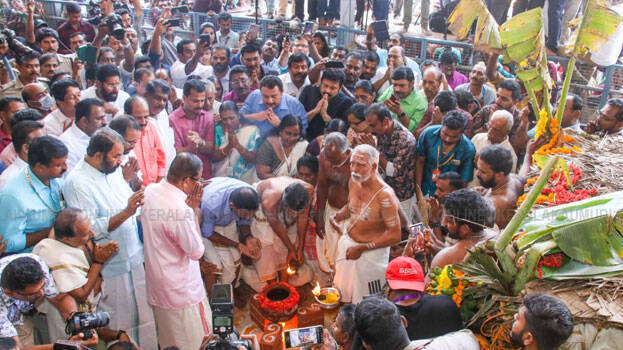 THIRUVANANTHAPURAM: The fire has been lit at the temple hearth in Attukal ending the wait of lakhs of women. Tantri Thekkedath Parameswaran Vasudevan Bhattathiri handed over the flame from the sanctum sanctorum to chief priest P Kesavan Namboothiri to light the Pongala hearths at the Valiya Thidapally at 10.30 am after pantheeradi puja and deeparadhana. The flame was later passed on to the assistant priest to light the pandara aduppu.
The flame from the pandara aduppu will be lit to thousands of the other pongala hearths. White rice, kadum payasayam, therali, mandayappam, the favourite dishes of the devi will be prepared. Nivedhyam is at 2.30 pm. 300 priests have been deployed to sprinkle the holy water on the pots. Flowers will be showered from three Cessna Aircrafts.
Attukal Temple is called the Women's Sabarimala as only women perform rituals, while it is predominantly men who undertake the pilgrimage to the hill shrine of Lord Ayyappa at Sabarimala. The ritual offering is a sweet pudding of rice, jaggery, grated coconut, ghee and banana prepared in earthen pots.
The ten-day festival commemorates the hospitality accorded by women to Kannaki, the divine incarnation of the heroine of the Tamil epic 'Silappadhikaram' while she was on her way to avenge the injustice meted out to her husband Kovalan, after destroying Madurai city.