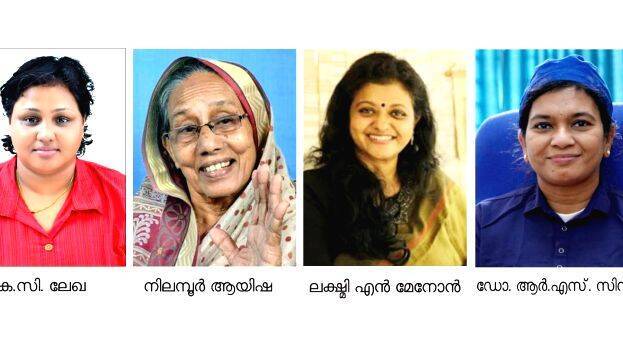 THIRUVANANTHAPURAM: KC Lekha, Nilambur Ayisha, Lakshmi N Menon and Dr RS Sindhu have been named the recipients of last year's Vanitha Ratna awards by the state government. Minister Veena George informed that Chief Minister Pinarayi Vijayan will distribute the awards at the state-level inauguration ceremony of the International Women's Day celebration which will be organized at Nishagandhi Auditorium on Wednesday at 4 pm.
KC Lekha
KC Lekha, a native of Thiruvananthapuram, won a gold medal in the 2006 Women's World Amateur Championship representing the Indian women's amateur boxing 75kg category.
Nilambur Ayisha
Nilambur Ayisha is a person who made her presence known in the field of theatre when women stayed away from the theatre. She took a stand against the oppression of girls and women. Manju Warrier played the central role in the film Ayisha which was based on the life of Nilambur Ayisha.
Lakshmi N Menon
Lakshmi N Menon, who runs 'Pure Living' in Kochi, coined the concept of 'ammoommathiri'/wixdom to provide a livelihood to women living in old age homes and orphanages. She is active in activities to ensure the safety and empowerment of women and children.

Dr RS Sindhu
RS Sindhu is the doctor who successfully led the first liver transplant surgery in the government sector in Kerala. She realized three Liver transplant surgeries at Kottayam Medical College. Dr Sindhu is the first woman from Kerala to obtain MCH in Surgical Gastroenterology.