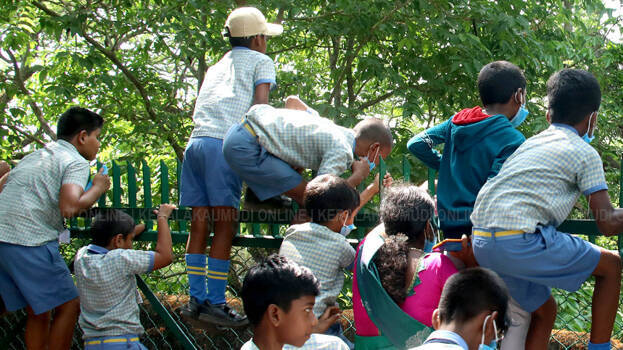 THIRUVANANTHAPURAM: For people visiting Thiruvananthapuram from other states and districts, the zoo is a major attraction. If the school excursion group enters the capital, they will definitely visit the zoo. But this picture shows that the zoo authorities do not pay any attention to the safety of the visitors, despite the high ticket prices. In the picture, it can be seen that the students who came from Tamil Nadu to the Thiruvananthapuram Zoo as part of an excursion, climb over the security fence of the open cage to see the lion.
This picture was taken by Kerala Kaumudi photographer Nishant Alukadu. The lion is housed in an open cage. This enclosure descends inwards with a high wall outside. Visitors who climb over the fence cannot even be saved if they accidentally trip and fall in.

The Thiruvananthapuram zoo was one of the most famous zoos in India once. But today the situation is deplorable due to various inadequacies. Measures to modernize and protect animals do not occur here. Animals including deer are dying due to tuberculosis in the zoo. It is reported that 53 deer died from April 2022 to January 20, 2023. 37 of them are blackbucks. The main concern now is whether the disease will get transmitted from the animals to their caretakers. If that happens, it will lead to very serious consequences. Although a system has been put in place to treat the animals, its operations are not on an effective scale due to a lack of adequate staff. The health of the employees should also be checked at regular intervals. It was only when the news that the animals were dying that the government's system woke up to the problems.