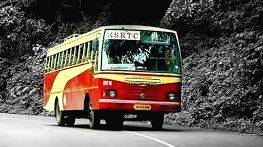 THIRUVANANTHAPURAM: It is alleged that the KSRTC is attempting to exempt from punishment the woman conductor who asked a Class 8 student to get off the bus in the middle of the day for giving her a torn Rs 20 note for a bus ticket. The KSRTC is claiming that it has not found the conductor who asked the boy to get off the bus.
On Wednesday, the KSRTC vigilance team investigating the parent's complaint showed the child the pictures of the female conductors of some buses that plied on this route on the day of the incident. The child, who expressed doubts about one of the pictures, said that he can verify if he sees the conductor in person. The investigation will be expanded.
The incident took place on Monday at 12.30 pm on the Thiruvananthapuram-Kovalam bypass in the Akkulam region. The officials are investigating by focusing on the buses that went through this route during that time. Two or three buses travelled through this route at the time of the incident. It is pointed out that there will be no difficulty in finding the bus.
The child, a student of MGM school in Akkulam, boarded the bus while coming back after an exam. The conductor said that the 20 rupee note given by the boy was torn. When the child said that he did not have any more money in his hand, he was made to get off the bus. The child was dropped off in the sun at noon. Although the boy then stood on the road for half an hour, he did not get a bus. Later, he took a lift in a motorbike that came by and got down at Chacka. The boy added that he then walked home.