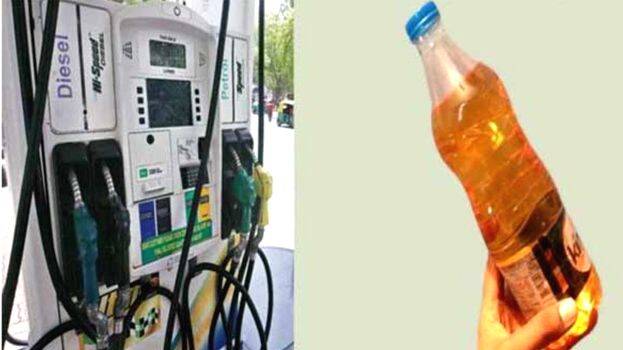 In the wake of the Elathur train fire case, the petrol pumps in the state have banned providing fuels in water bottles to customers. The Petroleum and explosives safety organization (PESO) has decided on the new rule. However, the move is not finding any room for logic, since Elathur remains an isolated case and is not one happening every day in Kerala. No bike rider in the state can escape the cruel fate of fuel needles plunging to the lowest. It happens at times. If the petrol bunk remains far away, the only salvage is to collect a minimum with water bottles or small cans. Cities have petrol bunks in copious numbers, but the situation is not so idle in villages. People mostly carry water bottles and cans to reserve some fuel to help them not go stranded down on road.
The PESO move is a fallacy on all accounts. If an assailant is all readied to inflict harm, then it is not stopping him to acquire hard explosives or any such chemicals with ease. Petrol from bikes can be easily taken away at a canter. The ban on acquiring petrol in water bottles is appalling and bizarre coming from PESOs standards. It is more akin to banning ropes for people committing suicide using the same.
The refilling of fuels in motors used in irrigation is another case. Taking motors to petrol pumps for refilling is not happening. The same sits for concrete mixers and mobile units. The fuel needs to be collected in cans or bottles to fill the same. Even settlements housing migrant workers now use diesel to run cooking. The instant ban is a sloppy one undertaken without any serious leap into the predicaments faced by ordinary people.
PESO should otherwise include a rule giving fuel in bottles for people ready to submit Aadhar cards with a form of approval.