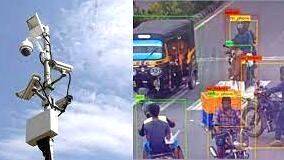 THIRUVANANTHAPURAM: The haste in installing AI cameras in the city to adopt safer driving methods is nothing but an enigma. The government looks to make this a veneer to squeeze out money even from parents taking children along on bikes.
According to reports Rs 232.25 crores were spent in establishing 726 cameras. The government claims one single AI camera costs around Rs 30 lakh. According to market trends, a technically adept AI camera will cost around just Rs one lakh. The hoax in numbers was questioned by the opposition but the government is yet to give a fair explanation.
The government has also given targets to the Motor vehicle department to collect a humungous total as fines from riders to redeem the cost of the cameras installed. The government expects the first year to bring in Rs 26.1 crores as fines. In the coming times, the expected revenue from fines can touch a huge Rs 250 crores.
MVD with assistance from Keltron estimated the total cost to touch near to Rs 245 crore.