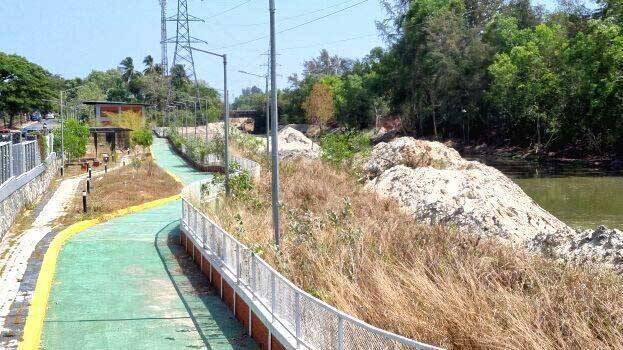 KULATHOOR: Thiruvananthapuram Corporation's first 'Gender Neutral' Biodiversity Park named as Dr APJ Abdul Kalam Park at Poundkadavu, is on the verge of ruin. The project costs Rs 4.75 crore, but less than a year after its inauguration, the track is in a damaged condition.
The park is located near Thumpa VSSC on the banks of Parvathi Puthannaar. At first, the park was designed to be 1.5 km long and 20 m wide but it was limited to 700 metres following a verdict from High court as it encroached land of a private person.
It was said that the first museum of trees and plants under the Thiruvananthapuram Municipal Corporation will be set up in Abdul Kalam Park under the name 'Arborate'. It was said then that the open space of the municipality will increase significantly when the park gets opened. The park, which is barren of trees and plants, is now 100 percent open.
Designed by – Recycle bin in Thiruvananthapuram
Contract Company – Bankers Consortium
Cost of the project – Rs 4.75 crore
Based on the outline:
1) Cycle track
2) Children's Park
3) Walk way, mangrove plants, bamboo
4) Short trees
5) Open gym
6) Modern toilets
7) Ecological, medicinal garden
8) Solar lights
Unfinished projects
Most of the projects mentioned were not fulfilled. Apart from the normal toilet block in the park, the universally approved Gender free toilet block built to international standards is incomplete and remains closed.
Conservation of trees
The park highlighted the diversification and conservation of more than 500 medicinal and important tree species, but now there is nothing but weeds and thorns.
19 cents land given by VSSC for building APJ Abdul Kalam's statue and memorial were also lost as the project remained uncompleted.