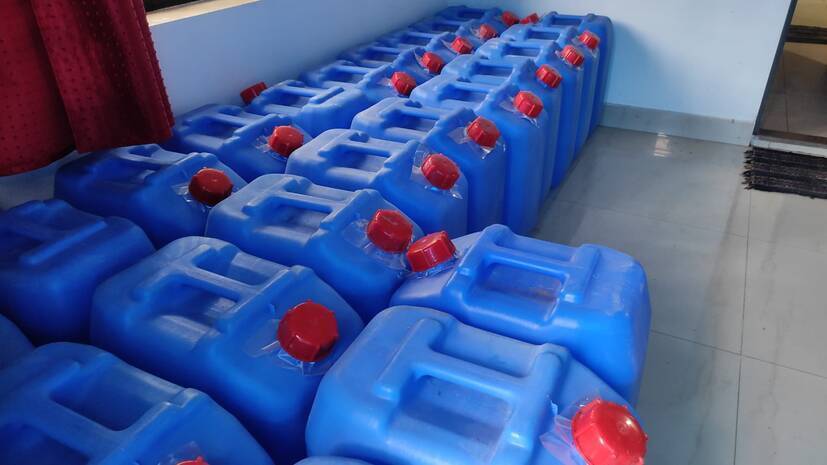 KOCHI: The Excise Department has received a piece of shocking information that more than four lakh litres of illicit spirit were brought to Kochi and handed over to make spurious liquor in the last one and half years. Raj Manikandan, a notorious gang leader of Mysore, is the mastermind behind this.
The gang leader undertook the mission for the person in central Kerala. The spirit was hidden in a warehouse in Unichira between Ernakulam Edappalli and Thrikakkakara. There is a secret compartment here to hide up to a thousand cans. One litre of fake spirit can make four litres of spurious liquor. One litre of spirit is enough to make ten litres of spurious toddy. Rs 300 was charged per litre.
On April 12, the Excise Department conducted a raid here and seized 6,720 litres of spirit. The spirit was taken to areas from Thrissur to Kollam. A person from the warehouse and the owners of three pick-up vehicles used to hand over the spirit were arrested. Things became more clear after Akhil Vijayan (35), who rented the warehouse, and Arjun Ajayan (25), an employee of the warehouse, surrendered the other day.
The excise enforcement team will soon go to Mysore to trace the gang leader. The help of the Mysore police will also be sought.
Raj Manikandan usually arranges vehicles and warehouses using assistants. Lorry drivers and workers were using SIMs from other states. No one is directly linked to Raj Manikandan. He had paid Rs 40000 as salary to the assistants. The Special Action Team headed by Ernakulam Enforcement Assistant Commissioner B. Tenimon nabbed the accused.
Via Palakkad in Taurus truck
The spirit was brought to Kochi via the Palakkad border in Taurus trucks. One load contains 400 cans of 35 litres of spirit. Up to two loads arrive a month. The chamber in which a thousand cans could be concealed was constructed in the warehouse for this purpose. The number of cans will fluctuate.
Kochi Metro Pillar
The cans brought out in pickups from the warehouse are handed over near the pillars of the Kochi Metro. The pillar number is the code. Clients arriving in luxury cars will pick up the cans from the pickup. Most of them go to Kayamkulam and Kollam region
Smuggled foreign liquor as well
Excise has received information that the gang used to smuggle cheaper brands such as Mood Maker Rum from Karnataka and Tamil Nadu by loads to Kerala and supply them to bars. This brand is supplied to Madhya Pradesh Company Beverages Corporation. This information came out a week ago when 100 cases of Mood Maker rum were seized from Thrissur.