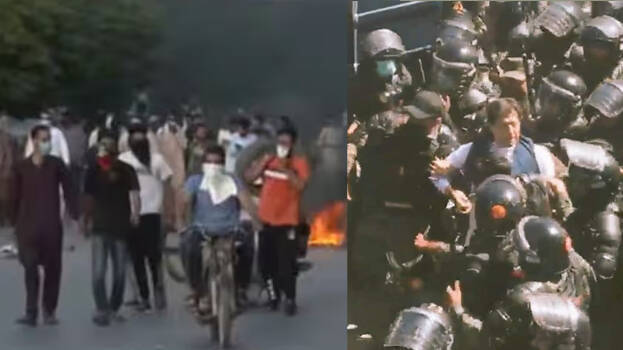 LAHORE: Following the dramatic arrest of former Prime Minister and PTI Chairman Imran Khan, Pakistan has descended into a riot-like situation. Imran Khan, who came to appear in the Islamabad High Court, was arrested by the Rangers, a paramilitary unit, and taken to a secret facility. PTI had informed that Imran Khan was brutally beaten during his arrest and people should take to the streets to protest.
After that, thousands of activists went on the streets, defying the prohibition order announced in Islamabad. People also took to the streets in other cities of the country. Protesters vandalized public property and torched government vehicles. Police and protesters clashed on the street. There were also reports of attacks on the homes of military personnel.
There were earlier reports that Imran Khan might be arrested at any moment in the foreign fund case. Imran Khan's video hinting at his arrest is also circulating on social media. It is alleged that money was illegally received from abroad for PTI without proper documents. Imran was on the verge of arrest in the case last October as well. The attempt to arrest him failed then as the followers gathered and resisted. Meanwhile, Islamabad Police has confirmed the arrest of Imran Khan.