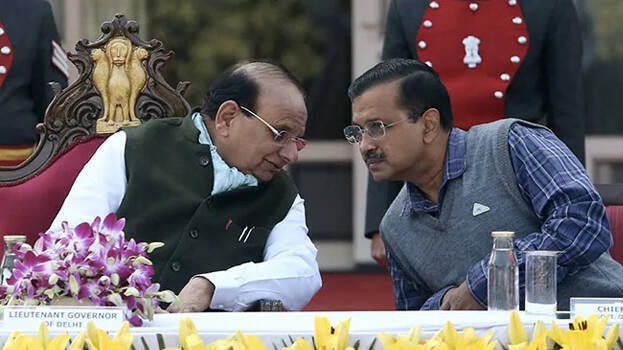 NEW DELHI: Following a favourable Supreme Court verdict on the control and posting of bureaucrats, Kejriwal government removed Services Secretary Ashish More this evening. Delhi Chief Minister Arvind Kejriwal had made a public response that there would be layoffs at the officer level after the court verdict. "The vigilance will now be with us. Disciplinary proceedings can be initiated against officers who do not work properly," Kejriwal said.
Currently, the services department is controlled by the Lieutenant Governor. A year after the Aam Aadmi Party came to power in Delhi, the central government placed control of the services department under the lieutenant governor through a special order. But the Supreme Court ruled in favor of the Delhi government on the plea that the central government is controlling the officers by using lieutenant governor VK Saxena. The court today ruled that the ruling power in Delhi belongs to the elected government and that the lieutenant governor should accept the decisions of the government and act on the advice of the cabinet. Soon after that, the Services Secretary was removed from his position.
Meanwhile, the Aam Aadmi Party argued in the Supreme Court that a government without control over officials is like a king without a kingdom. But the Centre is of the opinion that they have a major role to play in the governance as Delhi is the national capital. Since it first came to power in 2014, the dispute between the Aam Aadmi Party government and the Centre over power has been an ongoing story.