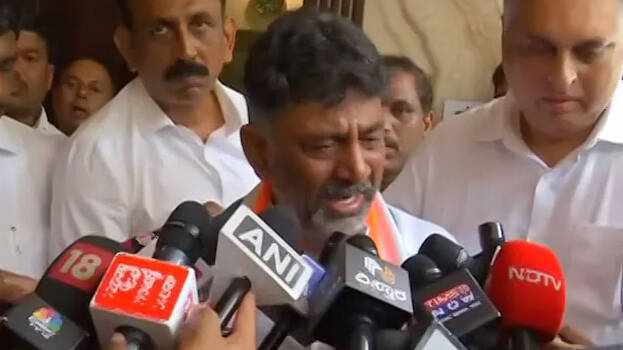 BENGALURU: Congress leader D K Shivakumar reacted to the media after the extraordinary victory in Karnataka. Shivakumar burst into tears with words going incomplete as the leader turned a tad emotional while describing the hard work and efforts of the party in Karnataka.
" I promised Sonia Gandhi, Rahul, and Priyanka about removing BJP from Karnataka. I kept my promise. Sonia Gandhi visiting me in jail is still etched in my memory and will last forever. More decisions about government formation will be discussed in party office" D K Shivakumar responded.
Meanwhile, there is a tussle for the CM chair in Karnataka, with the Congress's high command and the leadership preferring Siddaramaiah. Shivakumar has openly called for rebellion and will need to be assuaged by the leadership if the plan goes otherwise.
BJP leader Basavaraj Bommai accepted defeat and said the party will form a panel to scrutinize the fallbacks in garnering votes even from saffron bastions. Bommai assured the party workers to remain optimistic and asked to work for a saffron sweep in the state during the 2024 Lok Sabha elections.