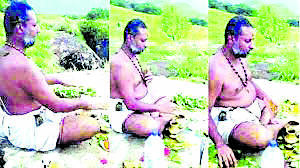 PATHANAMTHITTA: The Kerala police team in Tamil Nadu to arrest Thekettumadom Narayanan Thirumeni, who performed puja at Ponnambalamedu, was unable to locate him. Narayanan Thirumeni, who lives in Tiruchirappalli, is reported to have left Tamil Nadu. The tower location shows that he is in Delhi.
On May 16, a group from Tamilnadu under the leadership of Narayanan Thirumeni performed pooja at Ponnambalamedu. The forest department and the police had filed a case against them for trespassing in the forest, hurting religious sentiments and creating religious rivalry. Forest Development Corporation Gavi Division Supervisor Rajendran Karuppaiyyah (51) and worker Sabu Mathew (49) who helped them enter the forest after taking reward were arrested and remanded.
The police filed an application in Ranni court demanding their custody. Under the leadership of Konni DySP Rajapan Ravuthar, the police team reached Ponnambalamedu and collected evidence. The remnants of the pooja were collected. Forensic experts from Kollam were also with the police.
Seven more people including Narayana Thirumeni are to be arrested. Five of them are natives of Tamil Nadu. The investigation is also on Kannan, a native of Kumali, who linked Narayanan Namboothiri with the arrested Rajendran Karuppaiyyah and Sabu Mathew. The person who participated in the puja is also absconding. Pachakanam Forest Station and Moozhiyar Police are conducting the investigation.