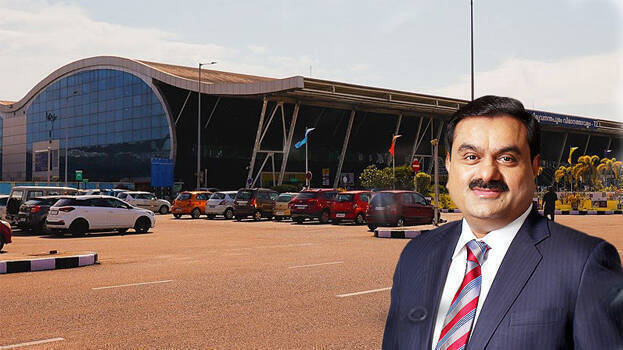 THIRUVANANTHAPURAM: To develop the Thiruvananthapuram airport, the Adani Group plans to construct a five-star hotel and an air traffic control tower near the international terminal. Ahead of the start of development work, 'Aishwarya Puja' as per Gujarat custom was performed at the airport yesterday. The new ATC will be constructed near the Chackai entrance of the international terminal. An application has been submitted for environmental clearance to build a five-star hotel on the right side of the terminal.
The hotel is being built with 240 rooms and an eatery with a seating capacity of 660. The construction is towards the end of the flyover to the airport. The hotel, which will be built by Adani, will be handed over to big groups like Oberoi. Environmental clearance is likely to be received this month. There is no five star business hotel near the airport in Kerala. This will provide facilities for all the passengers and employees to stay in the airport premises. At present, airlines accommodate pilots and air hostesses in other hotels. Passengers can also be accommodated here if services are disrupted or delayed. The hotel is being built 150 meters from the international terminal.

The new tower will be built on the model of Air Traffic Control (ATC) at Mumbai airport. The tower will have a sculptural charm that evokes the cultural past of Thiruvananthapuram. The tower will be handed over to the Airport Authority. Rs 115 crores had been sanctioned by the airport authority for the 49 meter high eight-storey tower, but the project was stopped due to lack of management. The existing facilities are inadequate to handle more than 350 flights passing through Thiruvananthapuram.
With the increase in services, the planes can be controlled accurately only with modern systems. The range of Thiruvananthapuram ATC is up to Trichy airport in Tamil Nadu and Nedumbassery in Kerala and up to 450 km in the sea. ATC is responsible for providing a safe route for the planes and preventing accidents such as collisions.
The development is being implemented keeping in mind the needs of the passengers up to 2070.
The airport is on 628.70 acres of land. Space limitation is the main constraint for development