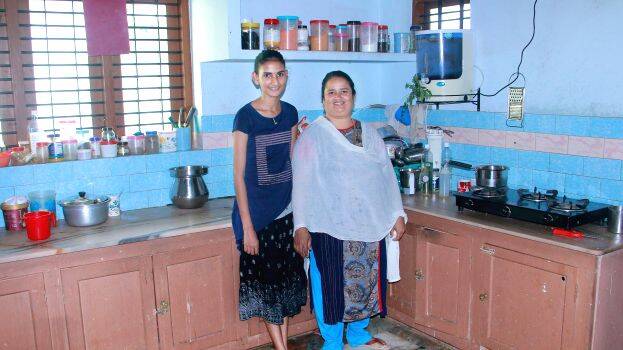 KOCHI: Waking up before four in the morning, the survival kitchen in Aluva Kadungalloor earns Rs 1 lakh a month. Amrita Shakti (21) and her mother Raji Shakti's destiny was changed by 'From the Kitchen', an online food startup that started during the Covid era.
They do all the vegetable cutting and cooking themselves. Raji packs the dosa, masala dosa, Appam, and curries. At seven in the morning, Amrita will leave the house with the food packets in bags. She will reach the flat of Federal Bank officials in Aluva and hand over the food packets. After that, Amrita takes the bus to Palarivattam Aviation Academy. The classes start at nine o'clock. Amrita is a first-year BBA Aviation student.
Amrita and her family run a mess for 25 people. There are orders from two food delivery agencies as well. After returning from college in the afternoon, she leaves again to deliver the evening meals. Amrita studies after finishing all the food deliveries. After that, she joins her mother to chop the vegetables and grind the flour. This kitchen is busy from 4 am to 12 pm. Rest is only from 2.30 pm to 3 pm.
Lost old job, chose cooking
Raji, who was an education counselor, turned to cooking when she lost her job due to Covid. The idea behind the online venture 'From the Kitchen' is also Raji's. Initially, the orders were few, but now up to 100 orders are received daily. Husband Shaktidharan and son Amal Shakti, who work at the company in Thrissur, are there to help in their spare time.
Prepared Foods ★ Idli, Dosa, Put, Appam, Oon ★ Different types of Tea, Coffee ★ Biryani, Fried Rice ★ Masala Dosa ★ Sandwich
'I just need to leave for class a little earlier. When mom and dad are working, I help them as much as I can."
- Amrita Shakti
'She doesn't sit idle even on Sundays. Some days I feel bad when she leaves for delivery".
- Raji Shakti