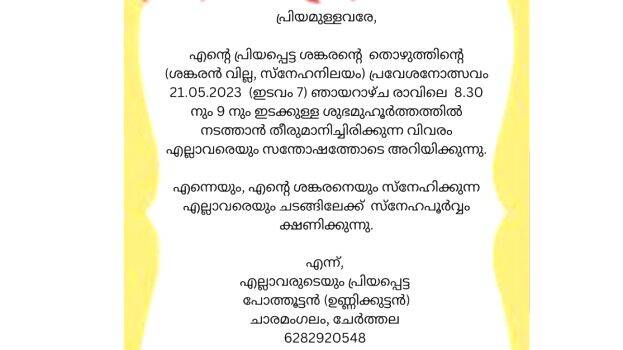 ALAPPUZHA: Wild buffalo attacks are the mainstream topic in Kerala, at the moment. The pointed horns of the wild took two lives in the Kottayam district calling for the masses to throng the city in protest against the inept working of forest officials. Whatever the case, in another part of Kerala, to be exact in Alappuzha, there is happening an unusual bond between a school-going boy and his buffalo.
An unusual invitation card on Facebook surprised many followers. The post was shared widely and many people came to the house after seeing the viral invite card on Facebook. They were given sweets by the family. The invite was for the inauguration of a new cattle shed.
Now to the story. Atul Krishna is a 10th std student in Charamangalam DVHS schhol. From childhood itself, Atul developed a liking for pets and loved to be in their realm cuddling and talking in languages unknown. The neighbor's cattle shed was Atul's favorite abode, as he used to feed and take care of their buffalo. Alas, one morning, the family decided to give the buffalo to a butcher dooming Atul into desperation. To alleviate her son's mood, Sindhu spent Rs 10,000 and bought a buffalo calf of the Murrah breed. Atul named him Shankaran. Their camaraderie was soon the talk of the town. Atul used to travel on the top of Shankaran and the buffalo will wail in loud if Atul fails to reach back on time.
This special story was covered in many youtube channels. The family lives in a modest setting and is financially struggling for the upkeep of the buffalo Shankaran. A women's organization gave the family Rs 67,000 to help build a new cattle shed for Shankaran. Atul's father is an autorickshaw driver.