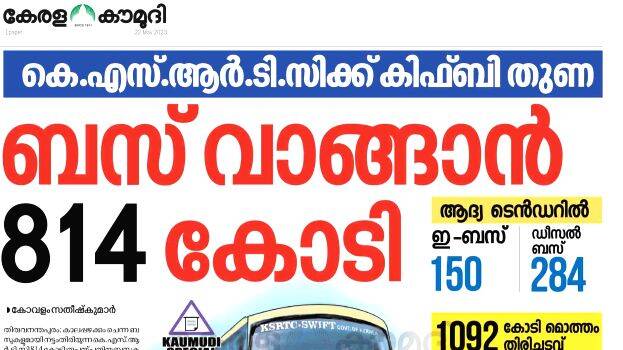 THIRUVANANTHAPURAM: Transport Department to speed up the purchase of buses using KIIFB loan. Instead of calling a new tender and buying buses, it has been decided to buy 469 diesel buses in the first phase through the earlier tender given to Ashok Leyland Company. New buses will be used for super fast and super deluxe services.
Earlier, Ashok Leyland was given a contract to purchase 600 diesel buses, but only 131 buses were purchased. The flag-off was on last April 4. There is a tender period of up to one year, within which the next purchase can be made.
Ashok Leyland was given the order to buy the buses because it quoted Rs 1.35 lakh less than other companies that participated in the tender last time. A chassis was priced at Rs 22.18 lakh. If a fresh tender is invited, the price is likely to increase by 1 to 1.50 lakhs. Moreover, it takes 7-8 months to complete the process. For KSRTC, the shortage of buses has affected the income. The only solution is to get new buses on the road as soon as possible. The body was built on Ashok Leyland chassis by Bengaluru-based SM Kannappa Automobiles (Prakash) at a cost of Rs 15.98 lakhs following safety norms.
E buses to run as superfast
KSRTC has decided to purchase a total of 500 electric buses using the loan. The 150 E-buses procured in the first phase will be used for super fast and fast passenger services. 50 buses purchased earlier are used for city services. These are small buses. The new purchases will be larger 41-seater buses. Only buses that can drive longer distances on a single charge will be purchased. The proposal to have buses running more than 300 km on a single charge will also be included in the tender.