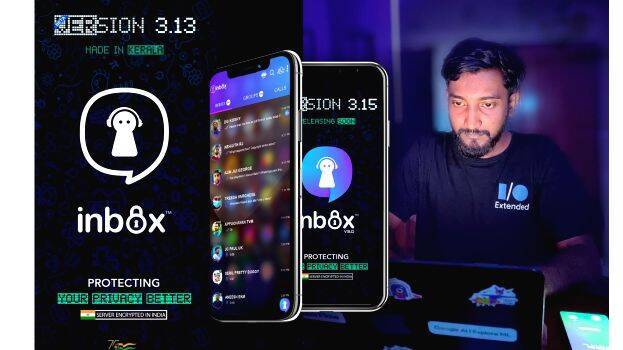 THIRUVANANTHAPURAM: Two years back, there were chatters about WhatsApp getting banned in India. It was in this spur-of-a-moment that made Thumpamon native Dinu George Koshy come up with an alternative messaging app. The arduous work over the years has now got approval from both Google and the central government's IT department. The start-up messaging app was included in the 100 best tech finds of the year by the IT Ministry.
More than 1000 applications reached the ministry but Dinu's ingenious application named 'Inbox' towered among the list for its design and security bulwark. This application comes at a time when most users are apprehensive about the vague promises given by WhatsApp when it comes to user security.
The application was created solely for business needs. Slowly, the app started reaching the masses, and if numbers are to be believed, more than 5 lakh users have downloaded it from Play Store. Every day, more than 5000 people are downloading 'Inbox'.
Dinu's application will get Google special upscale academy training. The attempt is to support more such brains to pop out from India where there is no dearth for intelligence. Initially, there won't be any financial support from Google to Dinu, but the company will talk more about getting venture funding for the project. Dinu will also get the six-month exclusive training especially aimed to mould upcoming CEOs.
Inbox sits differently from WhatsApp and has a special tab for texting. The application restricts videos shared between two users to be forwarded again which according to many experts promises a stronger security wall.