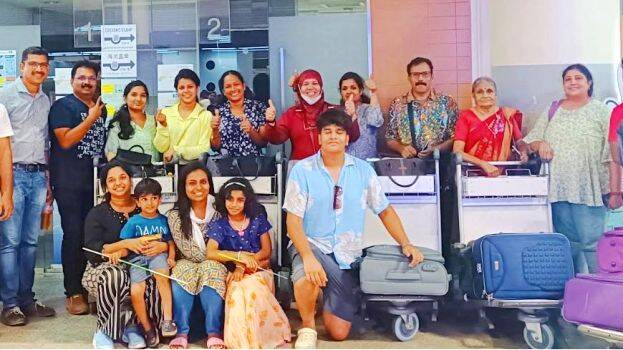 KOCHI: A group of tourists who got stuck in Thailand after being cheated by a travel agency reached home safely with the intervention of Minister VN Vasavan. Akhil, the owner of 'Travelcare' agency in Ettumanoor, who committed the fraud, is absconding, says police.
A group of teachers, doctors, technopark employees and media workers left Kochi for Thailand on the 20th. The group's travel agent in Thailand was Karlu, a representative of Touristik in Pattaya, who was given the contract by Akhil. The information about the fraud came to light after an investigation when the notification about the afternoon travel plans was not received on the second day. Shortly after, Karlu came to the "Golden Sea" hotel in Pattaya and threatened them. The threat was that 'The Kerala agent has not paid even a single rupee, the full amount should be paid for the program as per chart, passport will be withheld, return tickets will be cancelled, police complaint will be made and they will be in trouble' etc.
As the problem got complicated, the media worker of the group called Minister VN Vasavan on phone and informed him about the matter. "Don't be afraid. My friend Ajayan Varghese, a native of Kottayam and a businessman in Thailand, will contact you," the minister said. Soon Ajayan Varghese called and enquired. Soon after, his company manager, Kun An, a native of Thailand, contacted the group. Kun An informed them not to panic, and that they can continue the journey without any interruption and that she would make arrangements for them to return on the same ticket. Arriving at the hotel the next morning, Kun An took over the group's further affairs. Minister Vasavan and Ajayan Varghese contacted the tourist party on phone in the morning and evening till they returned home yesterday morning. The team members said they will remember with gratitude Minister Vasavan and Ajayan Varghese who saved them from a major danger and ensured that there were no problems.
Akhil had already prepared an escape plan
Travel Care owner Akhil was a hotel employee in Pattaya for many years. He started a travel agency during the Corona period from his experience as a tour guide. Akhil had devised an escape plan before sending the cheated group to Thailand on the 20th itself. The agency was closed two days ago and all the belongings in the rental house were packed. The plan was to escape on the night of the 22nd. When he realized that the police were looking for him, he abandoned the luggage and escaped. Akhil started living in Ettumanoor after his second marriage.
The police interrogated the brother-in-law and the mother. They gave statements that they don't know anything. The police said that they did not get any other information except Akhil's three phone numbers. Police have received a complaint that more people were involved in Akhil's fraud. Police said that they will expand the investigation after collecting more information.