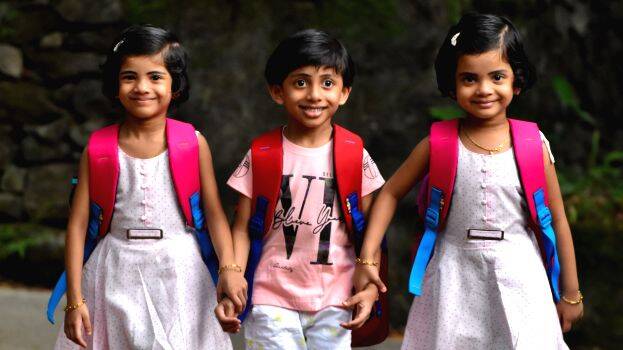 PATHANAMTHITTA: The three stars of Konni were waiting for the opening of the school. They are two triplet groups. The group will arrive at Konni Sree Narayana Public School with the same costume, bag, and colorful umbrella.
Muhammad Mishal Hawas, Minha Fatima Hawas and Maryam Fatima Hawas are joining LKG class. All three are the children of Hawas Khan and Sumi Meeran, residents of Bismi Manzil, Konni. Mishal is five minutes older and Minha is second. Out of the three, only Mishal is distinguishable.
Coming to the UKG class are Elita Sarah Melbin, Elisa Sarah Melbin and Elena Sarah Melbin, children of expatriate Melbin Baby and Vincy Vincent of Vellappara. The three, who look very similar, will trouble the teachers for sure. The family is based in Gulf. They were supposed to arrive today so that the children can join from the first day but the trip was postponed due to fever. They will be reaching school on the 6th.

Books and bags have been purchased for the triplet groups. Mishal will carry the books and bags by herself and helps Minha and Mariam as well.
Apart from them, twin brothers Madhav P Nair and Ishani P Nair, kids of Pratish Kumar and Karthika K Prasad from Konni, are coming to UKG. K Padmakumar, School Manager and President of SNDP Union Pathanamthitta said that the preparations for the entrance festival have been completed.