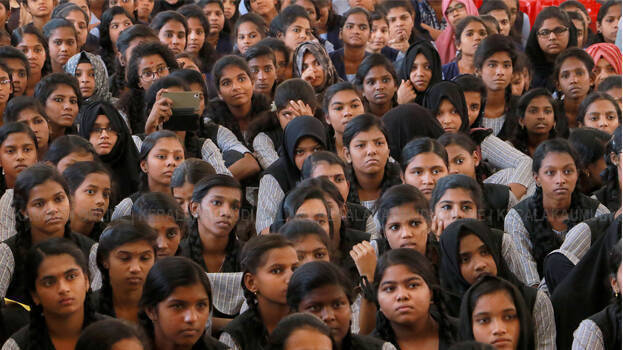 THIRUVANANTHAPURAM: A new academic year begins today. Schools are ready to welcome newcomers with gift packs and sweets. 3.25 lakh children will set foot in class 1 out of a total of 42 lakh students. Chief Minister Pinarayi Vijayan will inaugurate the state-level Praveshanolsavam today at 10 am at Malayinkeezh Govt. VHSS. The Praveshanolsavam song 'Minnaminughine Pidikalalla Jeevitham', penned by Murugan Kattakkada and composed by Vijay Karun and sung by Manjari and her team, will be played in the schools. Meanwhile, 15,000 teaching posts including 7000 in government schools are vacant. Minister V Sivankutty informed this in the assembly in December.
Meanwhile, stray dogs are a threat to students. Of the 3.25 lakh stray dogs in the state, only 65,000 have been vaccinated.
Petition to increase midday meal allowance
The Kerala Private Secondary School Head Masters Association has approached the High Court seeking an increase in mid-day meal allowance for students of government and aided schools. The demand is to make it 15 rupees.
The government allows Rs 6-8 per child per day. For schools up to 150 students, Rs.8 per student; between 150 and 500 students, Rs.7 per student; and for schools with more than 500 students, Rs.8 per student, is the presently allotted amount.
Clearance certificate for vehicle workers
Warning - Traffic sign boards near schools
Police clearance certificate mandatory for vehicle employees transporting children
It will be ensured that no intoxicants are produced in the shops in the school premises
Police to help kids cross the road in front of the school and control the traffic
Principals and head teachers can seek police help
LP Schools 6860
Govt- 2629
Aided- 3889
Unaided- 342
UP Schools 3000
Government- 868
Aided- 1865
Unaided- 267
High School 3750
Government- 1203
Aided- 1431
Unaided- 516
Higher Secondary 2077
Government- 852
Aided- 846
Unaided- 362
Technical- 17
VHSE 389
Government- 261
Aided- 128