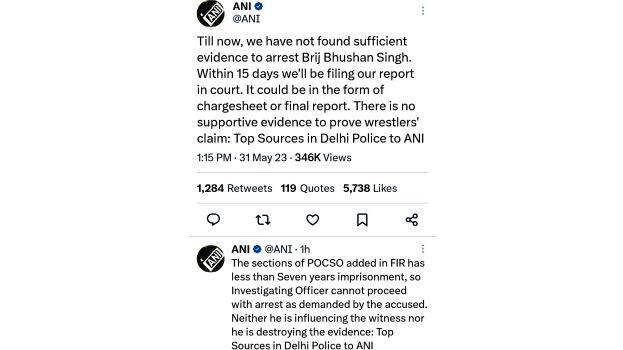 NEW DELHI: The ploy by the Delhi Police to save Wrestling Federation of India chief Brij Bhushan in sexual assault complaints has come to light. News agency ANI reported yesterday that the Delhi Police revealed that it did not have supportive evidence to arrest Brij Bhushan despite registering a POCSO case against him. Later, the police came out denying this on Twitter. However, it later deleted the tweet.
The drama of the Delhi Police came at a time when the wrestlers are continuously alleging that their complaints are not being investigated. Although the wrestlers on Tuesday backed away from throwing their medals into the Ganga at the request of farmers' leaders, they urged the authorities to take action within five days.

It seems that the police are attempting to whitewash Brijbhushan. Meanwhile, a farmers' maha panchayat has been convened in Uttar Pradesh's Soram village today to decide the next phase of the strike. Farmers will come from Uttar Pradesh, Haryana, Punjab, Rajasthan and Delhi. A large police force has been deployed in the vicinity of India Gate after the stars announced that they will fast till death.