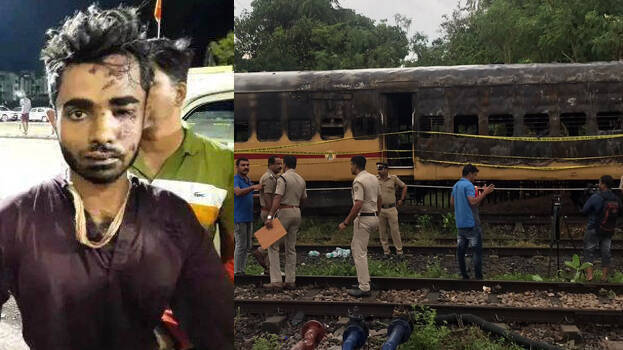 KANNUR: Reports said evidence has been obtained on setting fire the Alappuzha–Kannur Executive Express train stationed at Kannur railway station. An inspection said the assailant entered by breaking the window next to the toilet in the bogie. A stone believed to have used to break the window was found in the bogie. Reports said evidence has also been obtained for the assailant entering the bogie. The stone hit the closet. Forensic team and the dog squad examined the bogie. Meanwhile, the police dog sniffed and went to the nearby bush. It is suspected that the assailant may have hidden there.

The CCTV visuals of a shirtless man going near the train with a can was released earlier. The fact that a fire again in the same train in Kannur only a day before the completion of two months after the Elathur train fire incident adds to the seriousness of the incident.

Meanwhile, IB officials have reached the spot. NIA also started gathering information about the incident. Information is being collected from the police-railway police team, which is presently investigating the case. The initial conclusion of the investigation team is that the train was deliberately set on fire and burnt by pouring petrol.

NIA's preliminary assessment is that this incident in Kannur is similar to the Elathur train fire. In Elathur, the accused Shahrukh Saifi brought fuel and sprinkled it inside the train and then set it on fire. The CCTV footages that surfaced and the statements of the eyewitnesses are the same. The CCTV visuals of a man going to the bogey with a can in his hand has been obtained. Those who witnessed the incident said they saw smoke inside the bogie first but suddenly the whole bogie was on fire. They also said the fire broke out from almost every part of the bogie simultaneously. The investigation team concluded that the fire spread without using easily flammable fuel like petrol as there are more iron parts. There is also a strong suspicion that the fuel was sprayed inside the bogie and burnt. This will become clear only in the forensic examination.
Meanwhile, it is also suspected that the train without passengers was set on fire with the aim of causing a massive disaster which Kerala has never seen before. The Indian Oil Corporation's fuel storage center is barely a hundred meters away from the spot where the bogie caught fire. If the fire had spread to more bogies and reached the fuel tank, then the disaster would have been dreadful.

The fire broke out in the bogie of the Alappuzha–Kannur Executive Express train which was stationed at the 8th yard near the 3rd platform of Kannur railway station. The incident happened Thursday early morning at 1.30 am. No one was injured. The train was halted after ending its journey at 11:30 pm.