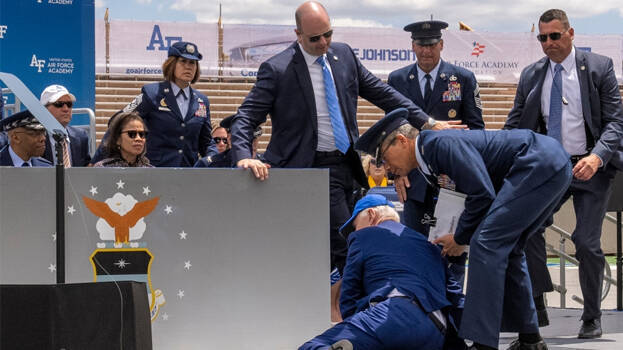 COLORADO: American President Joe Biden trips and falls over an obstacle at the Air Force Academy in Colorado. He appeared unhurt.
Biden, after delivering the commencement address to graduates of the military academy, shook hands with a cadet and begun walking back to his seat when he fell. The video of it has gone viral on social media.


A air force personnel is seen helping him and he went back to his seat as usual. He pointed to the obstacle that had apparently caught his foot. It was a small black sandbag on the stage.
White House Communications Director Ben LaBolt tweeted shortly afterward that "he's fine. There was a sandbag on stage while he was shaking hands. He joked about it later.
While returning in Air Force One and Marine One to the White House later, Biden bumped his head exiting the door of the helicopter. Biden is the oldest person ever in the presidency and is seeking a second term in the 2024 election. His official doctor's report this year declared him physically fit.