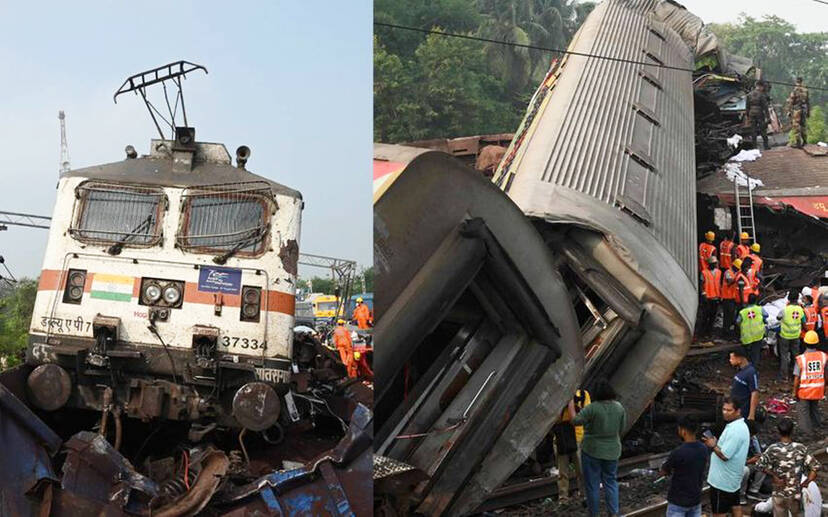 Disaster location:
250 km south of Kolkata. 170 km north of Bhubaneswar. Bahanaga Bazar Station.
Rail track:
Four tracks. Two tracks in the middle for long distance services to pass back and forth without stopping.
First track and fourth track to stop and hold trains.
Situation:
Time: Friday 6.55-7 pm
Coromandel X Express from Shalimar to Chennai and Howrah Super Fast from Bengaluru are timed to pass each other. For this, the goods train is kept on the track adjacent to the station. Another goods train is also stationed away on the fourth track.
To disaster:
Coromandel rushes at 130 km/h. As the goods train enters the station boundary, it switches to the existing loop track (deviates). It crashes into a freight train.
Consequence:
The engine goes up in the air and falls some distance away. 15 bogies including AC coaches are overturned. Seven coaches are crushed. All 22 coaches were derailed. Three coaches were thrown onto the main track cleared for the Howrah Express. Many passengers were inside the coach.
Second tragedy:
Moments later, the Howrah Superfast Express, which had left the Bengaluru Visvesvaraya Terminal the day before, was rushing at a speed of more than a hundred kilometers. It crashed into overturned bogies of the Coromandel. Three bogies of the Howrah Express overturned.