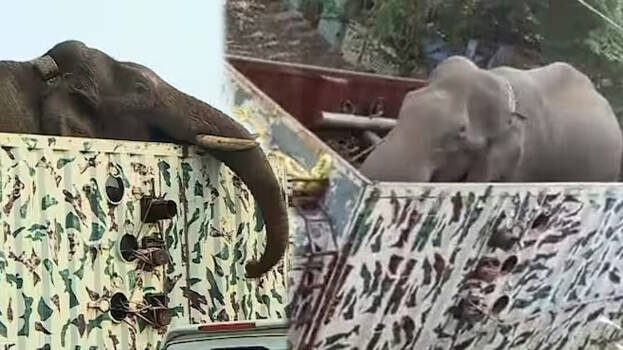 CHENNAI: The Madras high court has rescinded its earlier decision to not release rogue elephant Arikomban inside the Tamil Nadu forest. The court in stern words earlier asked the government to halt the release of the elephant inside forest premises, giving headaches to the TN government which turned apprehensive about sheltering the elephant for one full day. The forest officials then informed the court about the ailing health condition of Arikomban, ergo forcing the Madurai bench in Madras HC to take a softer stance on the issue.
The plea asking to stop the release of Arikomban to the TN forest area will be considered tomorrow by Madras HC. It was Ernakulam native Rebecca Joseph who filed the plea with Madras HC asking for intervention. It is purported about the plea also asked for the officials to hand over the rogue elephant to Kerala. The Madurai bench will consider the case tomorrow at 10:30 am.
Meanwhile, the TN officials are setting up plans to bring the rogue elephant to Kalakkad Mundanthurai Tiger Reserve. However, the decision has not got many takers as protests are in full flow with people trying to hinder the release. The elephant with such a fierce history of venturing into human habitats and attacking farmlands is presaged to do the same in the new terrain, according to locals here. The police have arrested many protesters to clear the space for the elephant ambulance to pass this way. As of now, the vehicle carrying Arikomban has reached Mundanthurai Tiger Reserve.