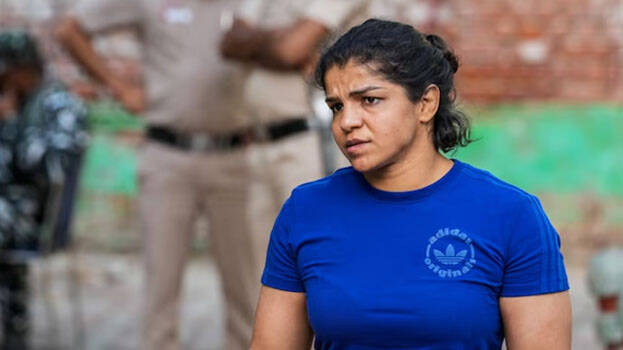 NEW DELHI: Olympic medalist wrestler Sakshi Malik on Monday rejected reports that wrestlers have withdrawn their ongoing protest in the national capital against the Wrestling Federation of India Chief Brij Bhushan Singh, who is facing accusations of sexually harassing some women grapplers.
Malik was earlier seen at the office of the Northern Railways in the national capital, triggering speculations that she has rejoined her office.
"No this is all rumours we did not call off the protest. I came to the office to finish some pending work for a day or two and we are making our strategy on what to do next, how to continue the protest in a non-violent way" Sakshi Malik said.
When asked about claims that she has rejoined work, the grappler who is an Officer on Special Duty (Sports) in the Railways and needed to finish pending work.
"I have a lot of responsibilities. Till the time we are not sitting on a protest, I have resumed my duties as I am an OSD I and came to finish some pending work. We are looking at our future strategy," Sakshi clarified.
When asked about the claims that the minor who was among the grapplers who had accusing WFI chief Bhushan of sexual harassment had taken back her complaint, Malik she said, "This is all fake news to discredit our protest in the eyes of the public and to make us lose public support."
"This is all wrong we never backed down in this fight and never will. Until we get justice this protest will continue," she added.
Talking about her meeting with Home Minister, Amit Shah on Saturday said that it was a normal conversation and no final solution was achieved. "Our demand will be the same, to get the accused arrested," she said.
"We have not withdrawn our names, Vinesh, I and Bajrang are together in this protest and we have not withdrawn our names," she added.
Earlier the Olympian wrestler too had taken to Twitter to refute the reports that wrestlers had withdrawn their protest. "This news is completely wrong. In the fight for justice, none of us has backed down, nor will we. Along with a Satyagraha, I am fulfilling my responsibility in the Railways. Our fight continues till justice is served. Please don't spread any wrong news," she tweeted.
"The fight will continue till justice is served," Bajrang Punia also said in a tweet.
Olympians Bajrang Punia, Sakshi Malik and Vinesh Phogat had been on protest since the beginning of this year in order to press for the removal and arrest of the WFI chief over allegations of sexual harassment.