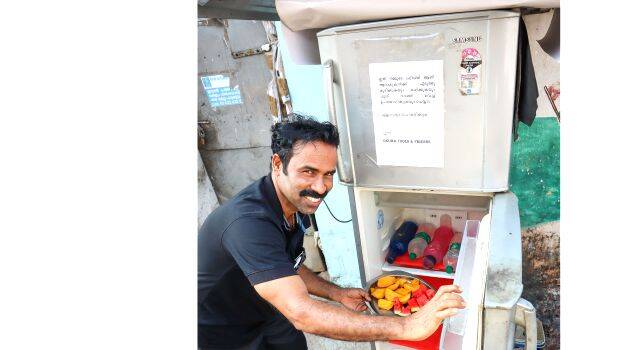 THRISSUR: Very close to Thrissur KSRTC bus depot is Ambadi Lane. A small walk into the street will call attention to one solitary standing fridge. Open it and you will see water bottles with fruits of all hues in abundance. Anyone can savor the edibles and not pay anything in return.
The fridge is owned by Thankavelu, who runs a spare parts shop nearby. The electricity for the fridge is also taken from the same shop. It is shop worker Puneetha's duty to cut fruits and place them inside the fridge every day.
Behind the noble initiative comes a story. It was during covid when Thankavelu experienced dire times. He had to take his cancer-suffering father and his ailing mother to the hospital amidst a lockdown. The aged ones needed water but no shops were opened. It still haunts Thankavelu about the sight when his parents turned pale and collapsed into dehydration. So in March 2022, Thankavelu opened this fridge and placed three cans of water for the public. Many started reaching the spot and thanked him for the service. This gesture made him try for more as Thankavelu started keeping fruits along with water cans inside the fridge. Occasionally, soft drinks are also placed in the fridge. After some pestering from the press, Thankavelu revealed his daily expense required for keeping the fridge working intact. He said it was Rs 500 for purchasing water cans and fruits. His father passed away recently and his mother is bedridden.
During Thrissur Pooram, there happened a beeline in front of this fridge. His friends nearby also helped to purchase fruits and water cans during the festival period. Hailing from Tenkasi, Thankavelu settled in Thrissur 35 years back. He now wants to open this fridge initiative in many places across Kerala.