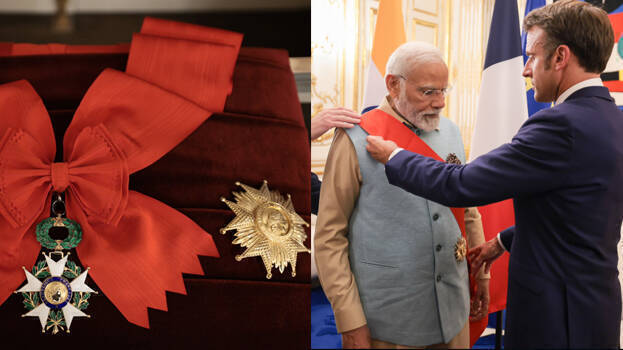 PARIS: French President Emmanuel Macron bestowed the Grand Cross of the Legion of Honour on Prime Minister Narendra Modi. This is one of France' highest award. Modi arrived in France yesterday on a two-day official visit. External Affairs Ministry Spokesperson Arindam Bagchi opined that this will strengthen the friendly relationship between India and France. French President Emmanuel Macron had hosted a dinner for Modi at Elysee Palace yesterday.


Modi participated in the programme of Indian origin at the La Seine Musicale- a performing arts center on an island in the river Seine at 11 pm Indian time. On the invitation of President Emmanuel Macron, Modi will attend today's Bastille Day parade as the chief guest. Army, Navy and Air Force personnel from India will also march in the parade. Bilateral talks with Macron and the signing of the Rafale fighter jet deal for the Navy will be key to the visit, which also marks the 25th anniversary of the India-France strategic partnership.

26 Rafale aircraft for Navy
The Defense Acquisition Council (DAC) chaired by Defense Minister Rajnath Singh has approved the deal for 26 Rafale Marine fighter jets and three Scorpion class submarines for the Navy, which will be signed by Prime Minister Narendra Modi in France today.

Apart from the 26 Rafale Marine aircraft, will also receive from the French government weapons, simulators, spares, documents, naval training and logistical support. The transaction will be determined based on the price paid to other countries.
The contract documents will include the integration of India-designed equipment and the establishment of a Maintenance, Repair and Operations (MRO) hub. Three Scorpion submarines with French technology will be built at Mazagon Dockyard in Mumbai.