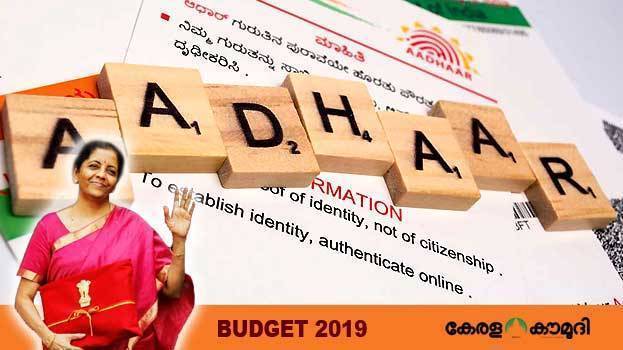 NEW DELHI: Presenting the first budget, Defence Minister Nirmala Sitharaman said the NPAs of commercial banks have been reduced by over Rs 1 lakh crore.
About 4 lakh crore recovered by banks due to IBC other measures in last four years.
PSUs are further provided Rs 70,000 crore rupees to boost economy.
NBFC should continue to get funding from banks and MFs says Finance Minister. NBFCs are playing imp role in capital formation in MSME segment.
17 iconic tourism sites 7 are being developed to enhance visitor experience. FM also proposes digital repository of tribal culture.
The Sensex and Nifty are trading down 0.50 per cent each while the Finance Minister Nirmala Sitharaman is presenting her maiden Budget. At 11.53 am, the Sensex is down 133 points at 39,774.66, while Nifty down 59 points at 11,887.05. Get all the stock market updates live here
Issuing aadhar cards for NRIs with Indian passport after their arrival in India without waiting for mandatory 180 days.
The minister announced women welfare schemes. Finance Minister said naari tu narayani, and speaks on women issues. Govt believes to make progress with greater women participation.
Government aims to bring greater ease of living in lives of citizens. 35 crore LED bulbs have been distributed under Ujala. Stresses on the cost saving 18341 crores annually.
Rs 18,341 crore annually cost saving with distribution of 35 crore LED bulbs. India is going to be free of incandescent bulbs. Will promote use of solar stoves and battery chargers.
30 lakh workers have already joined the PM Maandhan Yojana (pension scheme for informal sector).
Stand-up India programmed to be extended till 2025. Exclusive television program for start-ups under DD bouquet channels.
Proposes to set up a national research foundation. Will assimilate research grants from various ministries.
To streamline multiple labour laws into a set of four labour codes. Government to bring about labour reforms, to cut down on litigations.
National sports education board to be set up. Government committed to expand Khelo India Scheme.
National educational policy to focus on higher education planned. Major changes in school and higher education. Plan to establish a National Research Foundation Will identify thrust areas of national importance.
National Research Foundation will accumulate funds by all ministries and use it to prioritize and avoid duplication of research.
Finance Minister launches Study in India programme to bring foreign students to India. Also presses for greater autonomy for institutes. India to become hub for higher education.
Five yes ago not a single Indian institution were in the global ranking list. Now we have three institutes.
Regulatory system if higher education will be reformed. Higher education commission.
10 million youth to take up industry-relevant skill training under the Kaushal Vikas Yojana
Gandhipedia is being developed to sensitise youth and society about positive Gandhian values.
81 lakh houses in urban India have been sanctioned, 24 lakh already delivered. Rapid urbanisation in India an opportunity rather than a challenge.
Government to encourage PPP in metro rail projects. In the process of completing dedicated rail freight corridor.
Swachh Bharat mission ---9.6 crore toilets constructed. The Mission to be expanded to sustainable solid waste management in every village.
Make India Open Defecation free by October 2, this year. 95% of cities have become open defecation free.
Access to clean drinking water will be a priority. Ensuring water security and access to safe, adequate drinking water is a priority. Water resource department aims "Har ghar jal" by 2024 under the Jal Jeevan Mission.
Nirmala Sitharaman to look at rain water harvesting, waste discharge management.
1.25 lakh km with an investment of Rs 80,250 crore to be allocated under the PM Sadak Yojana scheme
10,000 new farmer producers organisation. India is now self-sufficient in pulses, FM thanks farmers. Centre to invest significantly in agriculture infrastructure.
Aim to form 10,000 new Farmer Producers Company (FPOs). Measures to allow farmers to benefit from eNAM. Ease of Doing Business and Ease of Living should also apply to Farmers. Need to focus on zero budget farming.
Farmers being trained already, to help double farmer income. Ease of living and ease of business should be provided to famers too
To promote private investment in agri infrastructure, support creation of 10000 new FPCs, work with States to implement eNAM and replicate the model of zero budget farming.
80 livelihood incubators and 20 tech incubators to develop 75,000 entrepreneurs in the Agriculture
Annadata to turn into urjadata: Farmers to become power generators through entrepreneurship support from govt
Finance Minister also proposes bamboo and honey clusters
Rs 80,250 crore to upgrade 1.25 lakh km of rural roads under PMGSY over the next 5 years. 97% habitations now have road connectivity. 30k km PM rural road was built using green technology. Rs 80,000 cr provision for 1.25,000 km new rural roads.
PM Fishery Scheme for end to end solutions. Fisheries management framework to be set up under Fisheries Department.
Central focus of all programmes is gaon, garib and kisan. Electricity, LPG provided. By 2022, 75th year Independence Day, Every single family, except the unwilling, will have electricity and clean cooking fuel.
By 2022, I would like to assure the nation that every single rural family, except those who are unwilling to take the connection, will have an electricity and clean cooking facility.
Every single rural family will have electricity and clean cooking facilities, except those who are unwilling to take it.
1.5 cr rural homes completed under PMAY phase I till now; 1.95 cr houses to be provided in phase 2 now By 2022, 1.95 crore households proposed under PM Awas Yojana to eligible beneficiaries.
Completion of houses under PMAY took 314 days in 2017; now it takes just 114 days.
New CPSE --New Space India Ltd to explore commercialisation of space programme. New Space India Limited has been incorporated as the new commercial arm of Dept of Space for research and development carried out by ISRO
Finance Minister proposes to merge FPI and NRI portfolio.