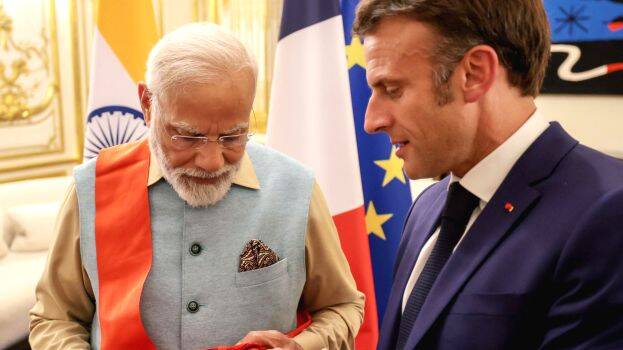 PARIS: Prime Minister Narendra Modi announced in front of the Indian community in Paris that India's digital payment system UPI (Unified Payments Interface) can be used in France, similar to international debit cards. India's goal is to make UPI universal.
Meanwhile, French President Emmanuel Macron and Prime Minister Narendra Modi have started discussions on defense cooperation. India is demanding the transfer of defense technology along with the purchase of Rafale fighter jets for the Navy, for which France is likely ready. There will be an opportunity to manufacture components of fighter jets in India. The President honored the Prime Minister of India with the nation's highest award, the Grand Cross of the Legion of Honour, at a dinner hosted by the President.
Prime Minister Modi pointed out that Indian tourists will soon be able to exchange Indian rupees through UPI with the help of a mobile app while visiting the historic Eiffel Tower.
The Prime Minister announced this while addressing the Indian community at the La Senne Musical Center in Paris.
Last year, National Payments Corporation of India (NPCI) has agreed to collaborate with France's online payment system 'Lira'.
MoUs have been signed with 13 countries.
An agreement was reached with Russia in April to use RuPay cards and the UPI system.
An agreement was signed earlier this year between UPI and Singapore's PayNow system.
UAE, Nepal and Bhutan have approved UPI. India is trying to spread UPI to different parts of the world like Europe and America.
5 years post study visa for Indian students
Other decisions
Five-year post study visa for Indian students doing Masters courses in France
New Consulate of India in Marseille
LNG export between Indian Oil Corporation and France's Total Energies Company
Cooperation in the field of small and medium nuclear reactors
Greater cooperation in energy, artificial intelligence, semiconductor and digital technology sectors
France's participation in the development of the new National Museum in New Delhi
A statue of Tamil literary legend Thiruvalluvar will be installed in Cergy Prefecture