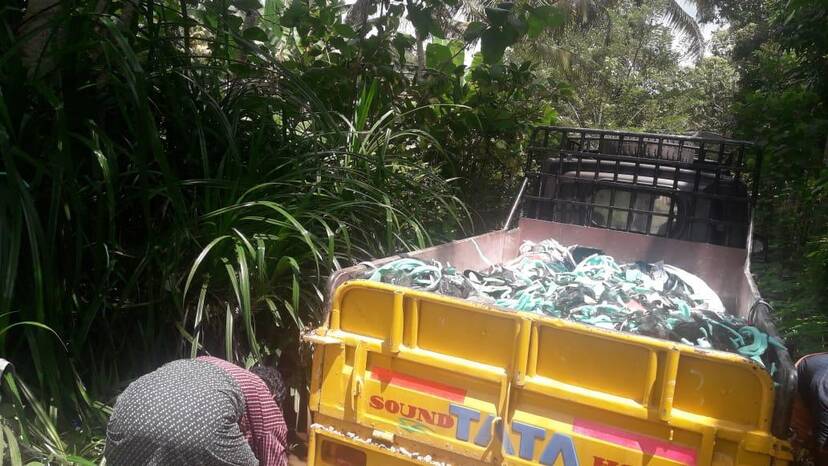 The mounting of garbage and other waste in nooks and corners of the city is a concern nevertheless. After the Brahmapuram fire, the inept handling of Kerala's waste management even received backlash from international news portals.

Many countries even warned citizens to avoid Kochi as the city was clouded in toxic smoke for months. There is no point in simply criticizing the government alone for this predicament. It is also the onus of people to keep clean their premises and neighbourhoods. However, in sharp contrast, people continue to find deserted nooks and corners to throw away home waste and others including plastics.

Seeing the garbage mount, more people will label the site as a disposal area and will contribute their share. The same people will come forefront with protests if the government moves forward to introduce a waste disposal plant on city premises.

Some foreign countries see waste management as a lucrative business to add more money to the coffers. If properly managed, waste can become a huge energy source. Thiruvananthapuram, which was once adored for its cleanliness is currently in the bottom rank when it comes to waste management.

Indore in Madhya Pradesh is the cleanest city in India. The main sewage plant is located at the heart of the city and no foul smell emanates or disturbs the people there. Most of the sewage plants in Indore are thus set up in a very scientific manner. Moreover, there were no protests from people in MP against the sewage plant.

This model can be adopted by all cities in India. It was only after the Brahmapuram fire that government and local bodies started intensifying their work for proper waste management measures.

It was under the tutelage of minister M B Rajesh that a special project titled 'garbage free Kerala' started. It is commendable that after four months, the local bodies have removed 91.65 per cent of the waste through this project. The figures of the Local Government Department proudly point out that out of the 5965 garbage dumps reported, 5473 of them have been completely removed.

The local bodies and government fancy 100% waste collection from all homes in the city. The Clean Kerala Project is being implemented through organizations such as Cleanliness Mission, Navakerala Mission and Clean Kerala Company. The government is also considering setting up a modern system for centralized plants, and a transport system for waste management.