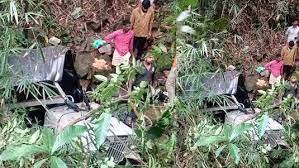 THALAPPUZHA: Festive spirit is running in Kerala as Onam is just around the corner. Amidst this jubilance came that news from Wayanad, aching hearts. Nine women workers from a tea plantation met a tragic end when their jeep overturned in Wayanad. Of the five injured, two are in serious condition. There were 14 people in the jeep including the driver. After sipping their mandatory evening tea, the workers were returning in the jeep to reach their homes.
The tragedy happened near Kannothmala junction near Thalappuzha on Mananthavadi Valad Road at around 3:30 pm on Friday. According to the driver's statement, the brakes stopped working which saw the jeep overturning into a gorge, while occasionally hitting the rocks.
The jeep after losing control in a turn, fell into an 85-feet-deep gorge. These depths are covered by bamboo plantations and the road is not at all visible from the gorge. So it was some courageous effort from the rescue team and locals as the victims were brought from the terrifying depths and rushed to hospitals amid the difficulty.
Except for the driver Mani (44), all the people in the jeep were laborers. The accident victims are natives of Makhimala No. 6 Colony.
Rani (57), Shanta (45), Chinnamma (60), Leela (60), Shaja (47), Rabia (62), Kartyayani (65), Shobhana (55), and Chitra (55) are the deceased. The other injured people are being treated at Wayanad Medical College. Meanwhile, Latha and Sundari, who were seriously injured in the crash have been shifted to Kozhikode Medical College.
For more than five years, the group worked together in many tea plantations. They relied on jeeps as the biggest luxury travel in the region, which was marked by steep curves and dangerous narrow roads. Big rope was thrown into the gorge and the victims were rescued amidst some show of bravery from rescue workers. Four people were already found dead at the time of rescue. All others were rushed to hospital but couldn't be saved. The jeep was destroyed completely. Most of the passengers recused had their heads broken after being hit by gigantic rocks down in the gorge.
The accident happened on a steep curve. The road had no retaining fences or protection. Albeit having a wide road, there were always threats of accidents in this region. The driver Mani is an expert with the wheels and has been knowing the roads for quite a long time. The kin of the victims will be given Rs 10,000 as immediate financial relief. Minister A K Saseendran has given orders to the district collector to fast-track the process.