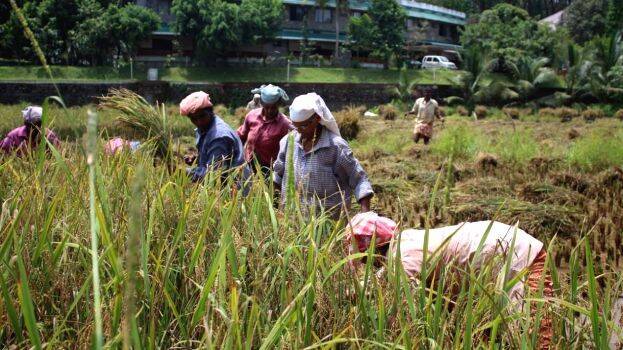 ALAPPUZHA: In a recent public function, actor Jayasurya raised concern about farmers not getting paid for their produce. Bruised by the actor's comment, some ministers retorted back saying help was provided despite the central government stymieing all financial assistance. This controversy is trudging towards its uglier side, but the fact remains that Rs 250 crore is still to be paid as the price of paddy to farmers. From this, the arrear to be paid to Kuttanad farmers amounts to Rs 109 crore.
Earlier an MoU was signed with SBI and Canara Bank to provide loans to farmers. While Canara Bank disbursed Rs 38.32 crore to 4,000 farmers, SBI disbursed only Rs 42 lakh to less than 100 farmers. For farmers, who were to be paid more than Rs 50,000, the government had given word to pay them directly. However, the authorities failed to walk the talk. More than 4600 farmers are on this list and the government is yet to complete at least half of the Rs 23 crore payment allotted for them.
It was during the months of March and April that the paddy was collected. Many families were denied proper payment for their produce and it shattered their living standards as many among them relied on exorbitant loans from banks to cultivate paddy.
Decentralized grain storage is a collaboration between the central and state governments. Rs 20.40 is the Minimum support price provided by the Centre. The procurement price of paddy is Rs 28.32 per kg, including the state bonus of Rs 7.80 and 12 paise for handling charges.
In order to overcome the delay in getting the procurement price from the government, Supplyco implemented a Paddy Receipt Sheet (PRS) loan in collaboration with banks. Banks will give loans by accepting PRS as collateral while paddy is harvested.
Stored paddy is distributed through the public distribution system. The delay in settling the account has delayed the central allocation. Supplyco was unable to repay its loans to banks on time. This affected the CIBIL score of the farmers.