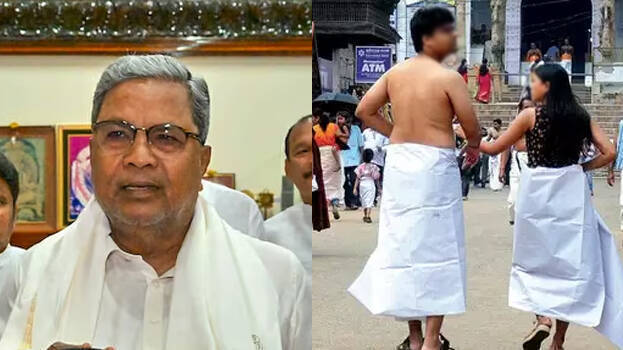 BENGALURU: Karnataka's Chief Minister, Siddaramaiah recently made statements that stirred controversy. He expressed his viewpoint that being asked to remove his shirt for darshan in a temple in Kerala amounted to discrimination.
During an event in Bengaluru commemorating the 169th birth anniversary of Sri Narayana Guru, Siddaramaiah recounted an incident when he visited a temple in Kerala. At that time, he was requested to remove his shirt before entering the temple, a practice commonly followed in many temples across South India including Karnataka and Andhra Pradesh. Siddaramaiah declined to comply and chose to offer his prayers from outside the temple instead. He emphasized that such practices were inhumane and contradicted the principle that everyone is equal before God.
It's worth noting that in several South Indian temples, male visitors are typically required to change into a traditional attire and wear a shawl before entering. This practice, however has sparked debate and discussion on the grounds of equality and fairness.