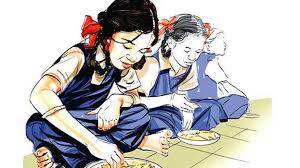 THIRUVANANTHAPURAM: Minister V Sivankutty has announced that the crisis that has arisen in the implementation of the school mid-day meal scheme will be resolved soon. The central government has to bear the rice and 60 percent of the cost. "The Centre is deliberately delaying the allocation from the year 2021-22 when the Public Financial Management System is mandated in the scheme. Due to this, the amount for the implementation of the project and the honorarium of the cook cannot be paid in time.", he said.
"Rs 10,000 crore has been allocated in the budget for the mid-day meal scheme in the country, but the first tranche of 60 percent has been allocated only to BJP-ruled Madhya Pradesh (Rs 156.58 crore). Rs 284.31 crores of central share is to be received by Kerala. This will in turn become Rs 447.46 crores including the state share of 163.15 crores. Rs 170.59 crore to be received as central share in the first installment. If this is received, it can be allocated including the proportional state share of Rs 97.89 crore", the minister said.
The minister also said that the news that the amount was not allocated was not true because the previous year's appropriation paper and documents were not provided. The director of public education was tasked to submit a report on the difficulties faced by the teachers in the distribution of mid-day meals. A meeting of teachers' organizations will also be called to discuss the matter.