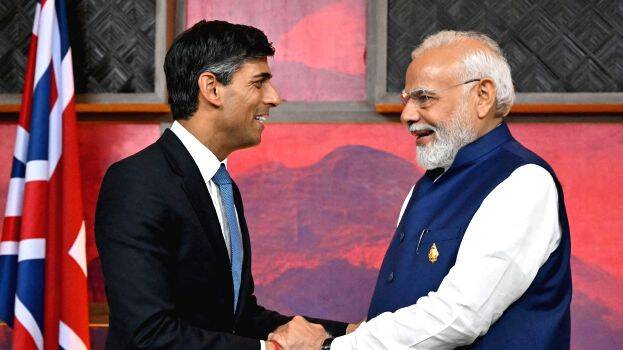 NEW DELHI: Prime Minister Narendra Modi held meetings with several world leaders during the G20 summit. Modi is using the G20 platform to strengthen bilateral ties and increase mutual cooperation in various fields including trade. The prime minister shared pictures of the crucial meetings held at Bharat Mandapam at Pragati Maidan on his official X account. Modi will hold talks with more than fifteen world leaders during the summit.
Modi gives warm welcome to Rishi Sunak
Prime Minister Narendra Modi warmly welcomed Rishi Sunak, who came to India for the first time after becoming the British Prime Minister, at the G20 summit. Both greeted each other with 'Namaste' and shook hands. They hugged in front of the cameras. Modi said that he was happy to meet Rishi Sunak. Later in the meeting, the two leaders discussed ways to deepen trade ties and increase investment were discussed. Modi stated that the two countries will work together for a stable and prosperous world.
"Two nations, one ambition. An ambition rooted in our shared values, the connection between our people and – of course – our passion for cricket," the UK PM tweeted on Saturday.