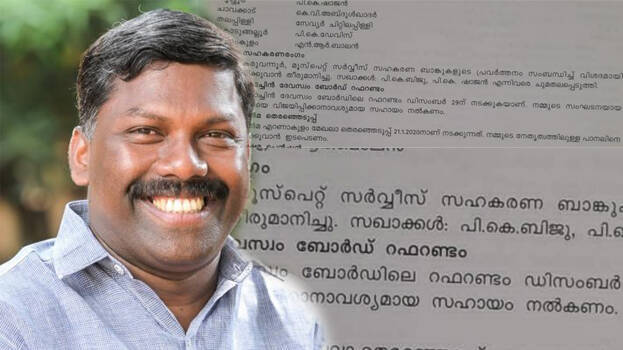 THRISSUR: Anil Akkara released documents showing that P K Biju was involved in the commission appointed by the CPM to investigate the Karuvannur bank scam. This at is after P K Biju announced through a press conference that he is not part of any inquiry commission. Anil Akkara also accused P K Biju of denying that he was part of the CPM commission in Karuvannur Bank through a Facebook post.
P K Biju, a member of the CPM commission at Karuvannur Bank, says that there is no such commission. The investigation report sitting in the party office is available for everyone today. Time has changed and the iron fence has rusted. He said that he remembers afamous dialogue from a Malayalam film that mentions about one's own existence, ie. 'Thaan aaranenn thanikk ariyillengil thannod thanne chodikk thaan aaranenn' - wrote Anil Akkara in a Facebook post.
Meanwhile, in a press conference held today, P K Biju denied the allegations that P Sathish Kumar, who was arrested in the Karuvannur bank fraud, is his benami. P K Biju informed that the allegations levelled by Anil Akkara are baseless. The CPM leader also demanded to hand over the evidence against him to the media.
He also clarified that he was not a member of the party commission that investigated the Karuvannur bank fraud. The Communist Party does not need the protection of any counterfeiter. He is not in the commission of inquiry. P K Biju added that he did not know whether the party had appointed an inquiry commission.