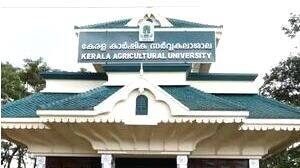 THIRUVANANTHAPURAM: The Agricultural University, burdened by a debt of Rs 200 crore, is embarking on a path to recovery by initiating 65 self-financed courses funded by a bank loan of Rs 40 crore.
They plan to launch 25 new-generation PG and PhD courses along with 40 certificate courses. These new courses will offer 900 seats with an additional 100 for research opportunities. Their revenue target is set at 12 crores per annum. These courses aim to train around 2000 individuals, including government employees, entrepreneurs and farmers. Admissions will be conducted at the national level, with foreign students and NRIs' children being admitted at a higher fee rate. Additionally, seats in existing BTech and BSc courses will be increased. The fees for these 15 new courses range up to one and a half lakhs.
The university, which spans 8 campuses and 45 centres across Thiruvananthapuram, Thrissur, Wayanad, and Kasaragod, owns 2000 hectares of land. To fund this initiative, the governing body has decided to secure a bank loan of up to 40 crores against one of its campuses' land. Out of this loan, 10 crores will be allocated for infrastructure improvements, including classrooms, libraries, labs and computers. The loan will be repaid using the income generated from these courses. The university has outstanding arrears of 200 crores for staff and teachers' salary revisions spanning over 10 years. Initially, they attempted to raise funds by selling land, but Vice Chancellor Dr B Ashok has devised a new plan.
Currently, there are 526 teachers serving approximately 3000 students. The teacher-student ratio falls short, at less than 1:5. Additionally, there are only 600 PG students.
Over the past seven years, there has been a deficit of 359 crores in plan and non-plan grants. While the project allocation stands at 75 crores, only 19-20 crores have been disbursed. Moreover, the non-plan fund of 400 crores has also been reduced.
Dr B Ashok, the Vice Chancellor expressed optimism stating, "With additional fee income, we can allocate Rs 10-20 crore annually to clear arrears owed to employees and teachers."