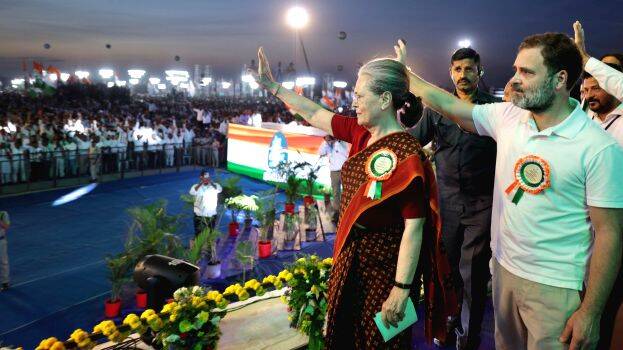 NEW DELHI: The Congress Working Committee in Hyderabad kickstarted work to strengthen the organization from the grassroots level and actively discuss people's issues. This quick-pace decision comes in the wake of the impending five state selections and the biggest of all, the Lok Sabha elections of 2024. The single most important aim of the Congress revitalization drive is to dethrone the BJP from power.
2024 marks the centenary of Mahatma Gandhi's presidency of the Congress Party. President Mallikarjun Kharge said in the meeting that the fitting tribute to Gandhi would be to sweep out BJP from power in 2024.
"Congress is aware of the challenge of protecting the Constitution and democracy. Adversaries can be defeated through unity and discipline. People want change. The success in Karnataka and Himachal Pradesh proves that the unity of the organization is paramount." said Mallikarjun Kharge.
Meanwhile, congress leader Rahul Gandhi asked people to not fall into the 'communalizing trap' of the BJP this time. The Hyderabad meeting has instilled a new ray of hope, confidence, and energy in the Congress camp. The leadership has decided to put the spotlight solely on the people's issue but not drag in any unnecessary topics while in election campaigning. The leaders also expressed confidence that they could retain rule both in Rajasthan and Chhattisgarh. Strategies to win the states of Madhya Pradesh, Mizoram, and Telangana were discussed. According to the new rules suggested in the meeting, the panelists and debaters within the party won't be allowed to criticize congress leaders while appearing on television debates.
Kharge suggested that the grassroots reorganization of the party should be completed quickly in every state.