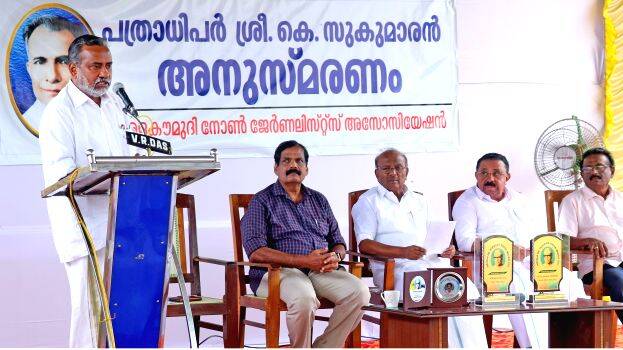 THIRUVANANTHAPURAM: Minister P Prasad said that the role played by Kerala Kaumudi and editor K Sukumaran to renew the Kerala society is unequalled. For Kerala, K Sukumaran is still 'the' newspaper editor. The relevance of Kerala Kaumudi, which advanced with the thoughts of Sree Narayana Guru, who promoted humanity beyond religion, is increasing in contemporary India.
Minister P Prasad was inaugurating the memorial meeting organized by the Kerala Kaumudi Non-Journalists Association on the occasion of the 42nd death anniversary of Editor K Sukumaran.

The inspiration behind the birth of Kerala Kaumudi is the thought that the voiceless should have a voice. How K Sukumaran, who walked holding the hand of his father CV Kunjuraman when he was a school student, later became newspaper editor K Sukumaran can be read from the paths he walked.
CV Kunjuraman, who went to address an Ezhava conference held at Kattoor in Alappuzha during the time when the caste system was flagging, took his son with him on the boat trip. On their way back from the event, they went to a Nair hotel in Alappuzha to have a meal. However, the owner said that they were not allowed to eat in the inner room and asked them to sit in the outer shed. The experience of walking out of the hotel with a hungry stomach without acknowledging that demand changed that father and son and gave them more energy for their renaissance activities later on.
Sukumaran was deeply moved by the incident when he was returning after eating the tea and bread bought by his father from the shop at the boat jetty. Him experiencing the discrimination that existed in Kerala is what led us to get the iron-strong newspaper editor later on.
K Sukumaran personally fought against superstition. He married Madhavi, who was his customary bride, despite having no horoscope match. This was a revolutionary thing at the time. Editor K Sukumaran had strong convictions about how to use the newspaper for social change and what positions should be upheld. He led the newspaper from that standpoint. Even after his death, the name of Editor, which he received that day, is with him.
AITUC State Secretary KP Shankaradas became the President. UDF Convener MM Hassan delivered the memorial lecture. Kerala Kaumudi Non-Journalists Association President V Balagopal gave the welcome speech and General Secretary KS Sabu gave the vote of thanks.