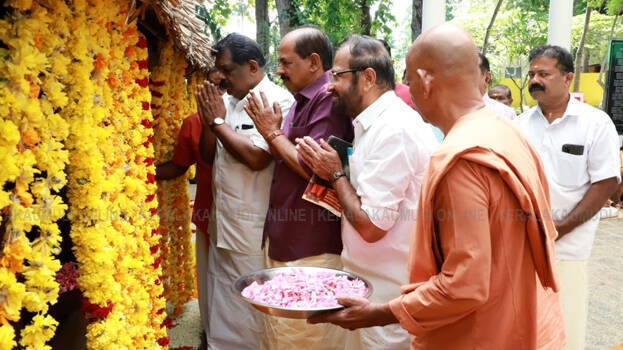 THIRUVANANTHAPURAM: The 96th Mahasamadhi Day of Sree Narayana Gurudeva is being observed with devotional ceremonies at Sree Narayana Gurukulam, Chempazhanthy. Minister Antony Raju inaugurated the Mahasamadhi Day observance conference held at 10 a.m. Minister GR Anil presided over the function. MLA V K Prasanth delivered the keynote speech. Former Deputy Speaker Palode Ravi, Councilor Chempazhanthy Udayan, and former Travancore Devaswom Board member K P Shankaradas attended the function.
Abhayananda Swamikal inaugurated the fasting prayer yajna which started at nine o'clock in the morning in front of the Vayalvaram house.
Homayajna was held at 2 p.m. at Sharada Matt in Sivagiri under the leadership of saints. Special poojas will take place at the Samadhi Peeth till 3.30 p.m. The ceremony will conclude with Abhishekam. Prize distribution for the winners of various competitions and the floats, that participated in the procession on the last Gurudeva Jayanti day, will take place at 4 p.m.