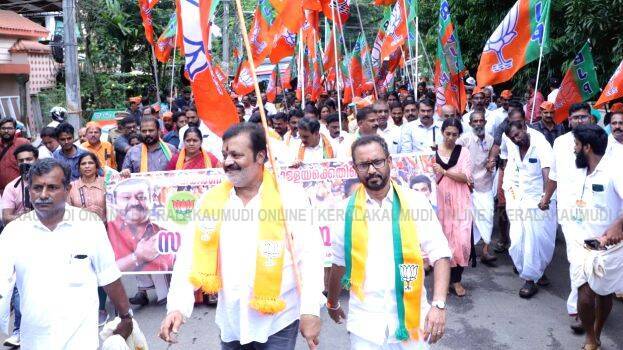 THRISSUR: Suresh Gopi and the BJP will not rest until the defrauded investors of the Karuvannur Cooperative Bank get justice, said BJP state president K Surendran. He was inaugurating the protest led by Suresh Gopi from Karuvannur to Thrissur.
BJP will not end the fight until the thieves who stole the money are brought to justice and the poor get their money back. BJP's struggle is not politically motivated. All parties are present in this protest.
While all the states in India accepted the central government's common software for cooperative banks, only Kerala opposed it. If there was public software, the investors would not have lost money. But the state government opposed it knowing that fraud would be caught.
At the time of demonetisation, crores of money was transacted in the co-operative bank in sacks. If that robbery had been stopped then, this tragedy would not have happened today. K Surendran said that CPM is trying to destroy Kerala Bank like Karuvannur.
Thousands of people lined up for the padayatra which started from Karuvannur. State General Secretary MT Ramesh inaugurated the concluding session. District President KK Anishkumar presided. State Vice Presidents Sobha Surendran, B. Gopalakrishnan, State Secretary A. Nagesh, and Palakkad Regional President V. Unnikrishnan also participated.