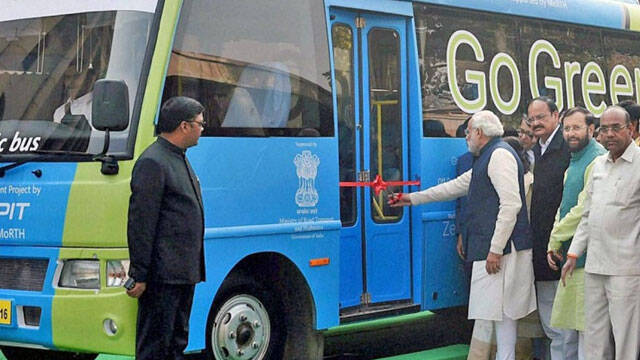 THIRUVANANTHAPURAM: It is finally happening. 950 buses sanctioned by the Central government under the Pradhan Mantri e-Bus Seva scheme will start running in the cities of Kerala. The Transport Department will write to the central government showing the consent. Kerala Kaumudi recently did a report which brought out the lax shown by the Kerala government in approving the scheme while many other states across India were making the best use of the scheme.
The news which went by a catchy headline was an instantaneous winner among people with discussions turning rampant. People started questioning the inept attitude shown by the government and it was at this juncture that the transport ministry felt the need for retrospection.
Even the transport department realized the disservice it would hurl at passengers if the scheme was snubbed. KSRTC is in no position to splash money to buy new buses. So, the prospect of ignoring 950 buses provided by the central government is simply a scornful thing to do.
If not responding, the central government can easily oust the state government from the scheme. Minding this warning and the waning time, Transport Minister Antony Raju has instructed Department Secretary Biju Prabhakar to take the necessary steps.
The minister also spoke to Union Transport Department Secretary Manoj Joshi regarding the procedure. 'Pradhan Mantri e-Bus Seva' is an initiative to deploy 10,000 electric buses in the country. Kochi and Kozhikode cities will get 150 buses each while Thiruvananthapuram, Kollam, Thrissur, Malappuram, and Kannur cities will get 100 buses each, and Cherthala, Kayamkulam, and Kottayam cities will get 50 buses in the first phase.
The government should make a guarantee about paying timely rent to the company providing buses to the state. The state should also make sure to provide uninterrupted electricity supply to e-Bus. Buses are made available to each state as soon as this is provided. The Center's share of rent (40.7%) will be paid directly.
The price of the bus ranges from Rs 1 crore to Rs 1.20 crore.
Can service up to 300 km on a single charge. There will be 41 seats.