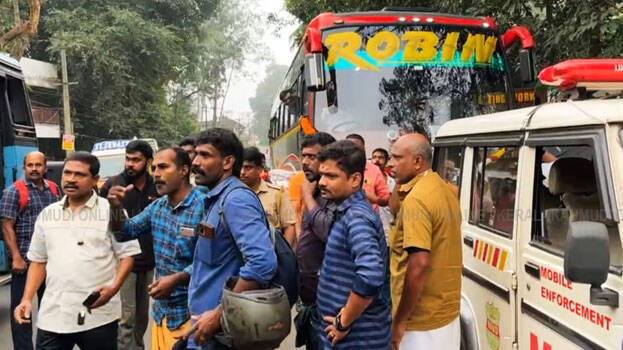 PALA: Within just hours of resuming their long halted service, the motor vehicle department(MVD) pounced in front of a private bus named Robin and delayed its service for the second time on Saturday. The bus, which started its service at five o'clock in the morning today, was stopped at Pathanamthitta when it had only covered a 200 m distance. And now, for the second time, the bus got stopped at Pala in Kottayam by another team of MVD.
A fine of Rs 7500 was imposed for violation of the permit. MVD officials did not impound the vehicle despite issuing a challan. Meanwhile, the bus continued its journey without paying the fine. According to the local people of Pala, the MVD has been stationed in Pala since early dawn on Saturday. Some said that the officials even cared less about people travelling without helmet and seatbelt in the area, but were just focused on stopping the Robin bus.
Earlier, the owner of the Robin bus clarified about getting the protection from High Court to continue service for the bus. Meanwhile, the MVD is of the stance that the bus which carries a national permit could not be allowed to run as a state carrier. The MVD had seized the bus twice earlier citing violation of the law. On October 16, the motor vehicle department seized the bus from Ranni during its service towards Coimbatore.
It was after a long legal battle that the owner resumed service with the High Court's protection. The issue back then garnered big media eyes and was discussed much. Robin resumed its service to Coimbatore on Saturday but has now been caught again in the quagmire. The first trip starts from Pathanamthitta at 5 am and ends at Coimbatore at 12 noon. The bus will make the return journey from Coimbatore at 5 pm and will reach Pathanamthitta by 12 am.