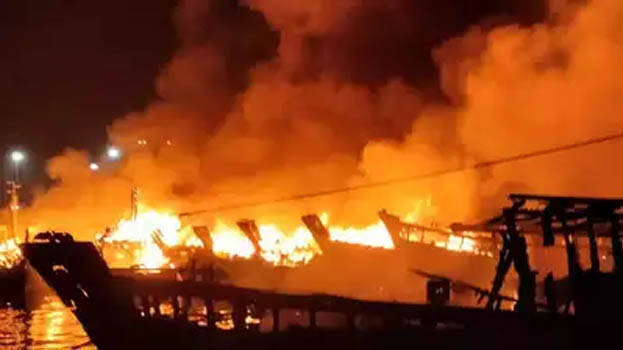 VISHAKHAPATNAM: There is a major loss in the fire that broke out in Visakhapatnam harbour last night. 23 boats were gutted in the fire that broke out in the harbour. Fire spread to 40 boats. The preliminary information is that there has been a loss of more than Rs 30 crore.
The fishermen informed that the boats were set on fire by some anti-social elements. Meantime, some said that there was a party inside a boat and the fire that followed was the cause of the tragedy. The fishermen also demanded an investigation into the matter.

Shocking footage of boats lined up in the harbour engulfed in flames. There was also a loud explosion from some boats. The police informed that the fire broke out at around 11.30 pm and the cylinders stored in the boats exploded, so people were instructed to evacuate the place. It is reported that there was heavy damage but no one died in the accident.